When creating presentations, it is particularly important that they are well organized and have a consistent structure.
A logical structure helps the audience to follow you and to remember the core information as best as possible. It is also important for the presenter, as a good presentation structure helps to keep calm, to stay on the topic and to avoid awkward pauses.
But what does such a structure actually look like?
Here we show you how to best organize your presentation and what a good structure looks like.
Table of contents
Plan your presentation
Before you start creating your presentation, you should always brainstorm. Think about the topic and write all your ideas down. Then think about the message you want to communicate, what your goal is and what you want your audience to remember at the end.
Think about who your audience is so that you can address them in the best possible way. One possibility is to start your presentation with a few polls to get to know your audience better. Based on the results, you can then adapt your presentation a little. Use the poll function of SlideLizard and have all the answers at a glance. SlideLizard makes it possible to integrate the polls directly into your PowerPoint presentation which helps you to avoid annoying switching between presentation and interaction tool. You can keep an eye on the results while the votes come in and then decide whether you want to share them or not.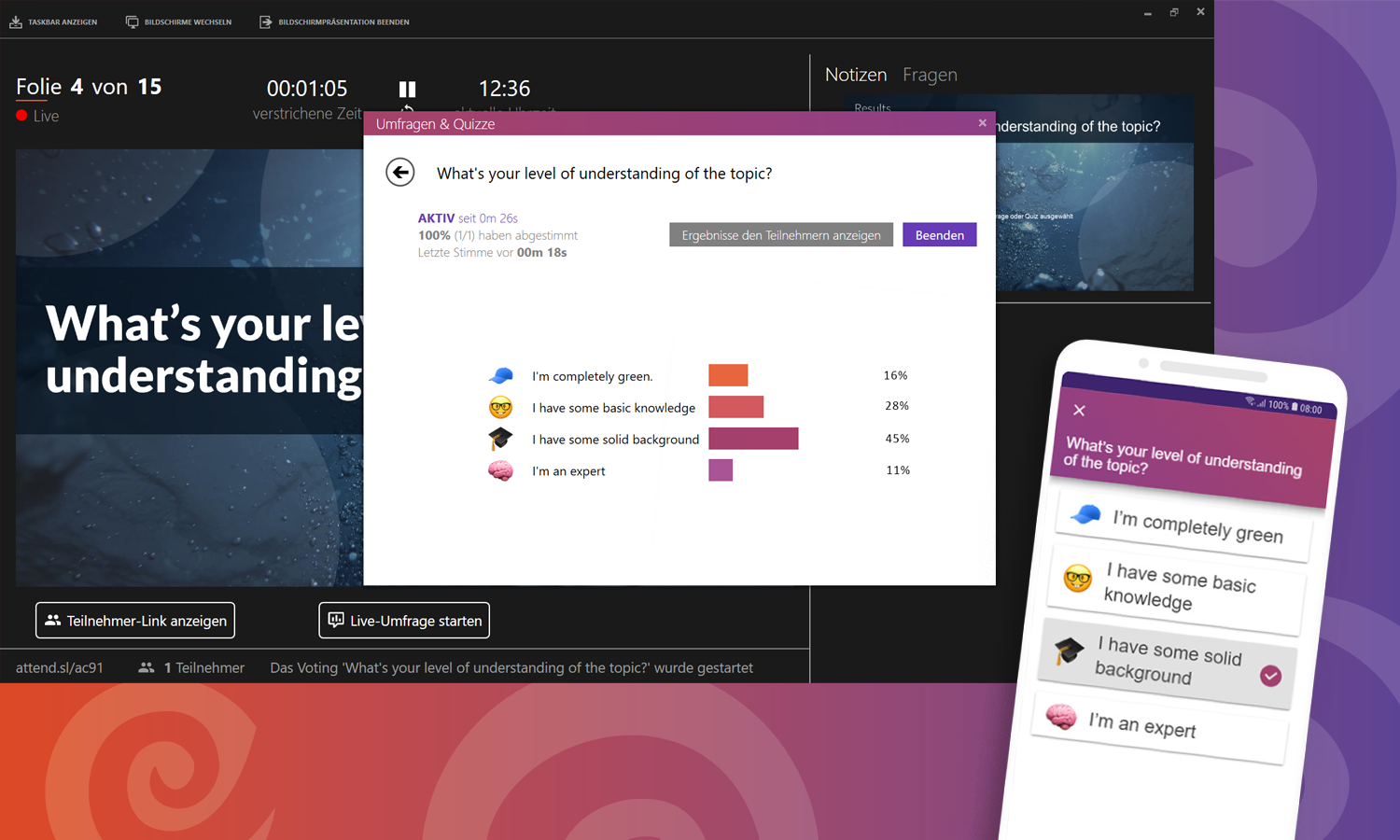 Also, be clear about what kind of presentation you want to give.
Should it be:
an informative
an entertaining
an inspiring
or a persuasive presentation?
Typical Presentation Structure
The basic structure of a presentation is actually always the same and should consist of:
Introduction
Main part
Conclusion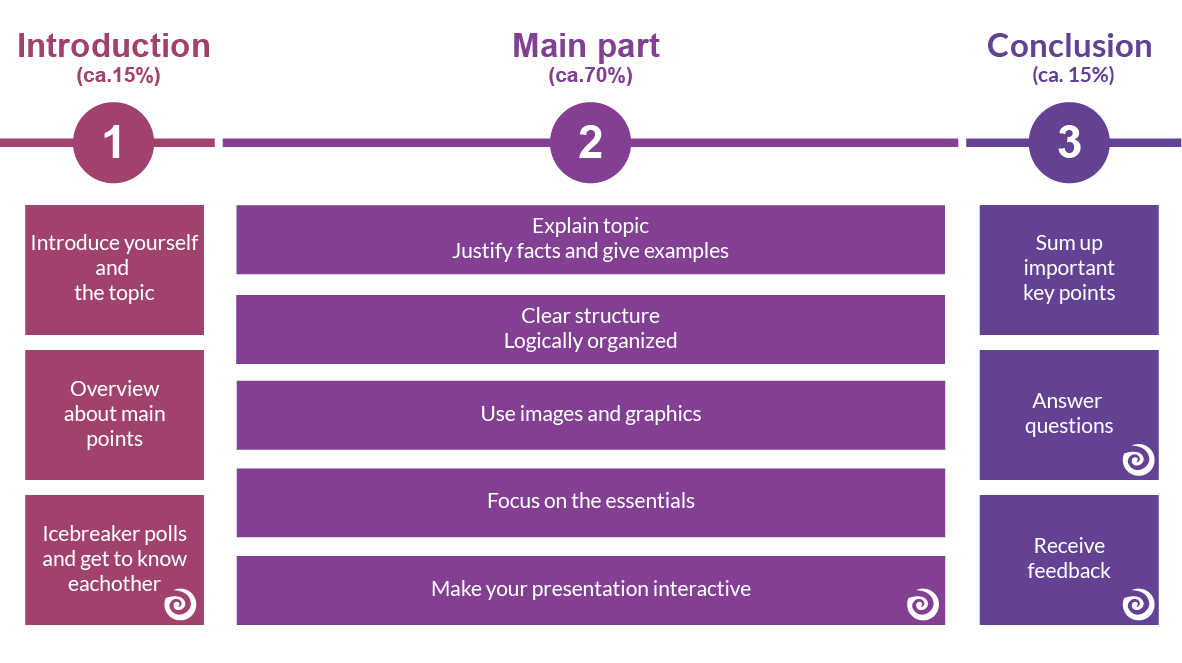 Make sure that the structure of your presentation is not too complicated. The simpler it is, the better the audience can follow.
Introduction
Personal Introduction

It is best to start your presentation by briefly introducing yourself which helps to build a connection with your audience right away.




Introduce the topic

Then introduce the topic, state the purpose of the presentation and provide a brief outline of the main points you will be addressing.




Mention the length

In the introduction, mention the approximate length of the talk and then also make sure you stick to it.




Duration

The introduction should be no longer than two slides and provide a good overview of the topic.




Icebreaker Polls

According to studies, people in the audience only have an average attention span of 10 minutes, which is why it is important to increase their attention right at the beginning and to arouse the audience's interest. You could make a good start with a few icebreaker polls for example. They lighten the mood right at the beginning and you can secure your audience's attention from the start.




For example, you could use SlideLizard to have all the answers at a glance and share them with your audience. In addition, the audience can try out how the polls work and already know how it works if you include more polls in the main part.




Get to know your audience

As mentioned earlier, it is always useful to think about who your audience actually is. Ask them questions at the beginning about how well they already know the topic of your presentation. Use SlideLizard for this so that you have a clear overview about the answers. You can use both single- and multiple-choice questions or also open questions and display their results as a WordCloud in your presentation, for example.




Include a quote

To make the beginning (or the end) of your presentation more exciting, it is always a good idea to include a quote. We have selected some powerful quotes for PowerPoint presentations for you.



Main Part
Present your topic

The main part of a presentation should explain the topic well, state facts, justify them and give examples. Keep all the promises you made earlier in the introduction.




Length and Structure

The main part should make up about 70% of the presentation and also include a clear structure. Explain your ideas in detail and build them up logically. It should be organized chronologically, by priority or by topic. There should be a smooth transition between the individual issues. However, it is also important to use phrases that make it clear that a new topic is starting. We have listed some useful phrases for presentations here.




Images

Visualize data and statistics and show pictures to underline facts. If you are still looking for good images, we have selected 5 sources of free images for you here.




Focus on the essentials

Focus on what is most important and summarize a bit. You don't have to say everything about a topic because your audience won't remember everything either. Avoid complicated sentence structure, because if the audience does not understand something, they will not be able to read it again.




Make your presentation interactive

Make your presentation interactive to keep the attention of your audience. Use SlideLizard to include polls in your presentation, where your audience can vote directly from their smartphone and discuss the answers as soon as you received all votes. Here you can also find more tips for increasing audience engagement.




Conclusion
Repeat the main points

The conclusion should contain a summary of the most important key points. Repeat the main points you have made, summarize what the audience should have learned and explain how the new information can help in the future.




Include a Q&A part

Include a Q&A part at the end to make sure you don't leave any questions open. It's a good idea to use tools like SlideLizard for it. Your audience can ask anonymous questions and if there is not enough time, you can give them the answers afterwards. You can read more about the right way to do a question slide in PowerPoint here.




Get Feedback

It is also important to get feedback on your presentation at the end to keep improving. With SlideLizard you can ask your audience for anonymous feedback through star ratings, number ratings or open texts directly after your presentation. You can then export the responses and analyse them later in Excel.






Presentation style
Depending on the type of presentation you give, the structure will always be slightly different. We have selected a few different presentation styles and their structure for you.
Short Presentation




If you are one of many presenters on the day, you will only have a very limited time to present your idea and to convince your audience. It is very important to stand out with your presentation.




So you need to summarize your ideas as briefly as possible and probably should not need more than 3-5 slides.




Problem Solving Presentation




Start your presentation by explaining a problem and giving a short overview of it.




Then go into the problem a little more, providing both intellectual and emotional arguments for the seriousness of the problem. You should spend about the first 25% of your presentation on the problem.




After that, you should spend about 50% of your presentation proposing a solution and explaining it in detail.




In the last 25%, describe what benefits this solution will bring to your audience and ask them to take a simple but relevant action that relates to the problem being discussed.




Tell a Story




A great way to build an emotional connection with the audience is to structure a presentation like a story.




In the introduction, introduce a character who has to deal with a conflict. In the main part, tell how he tries to solve his problem but fails again and again. In the end, he manages to find a solution and wins.




Stories have the power to win customers, align colleagues and motivate employees. They're the most compelling platform we have for managing imaginations.
- Nancy Duarte / HBR Guide to Persuasive Presentations




Make a demonstration




Use the demonstration structure to show how a product works. First talk about a need or a problem that has to be solved.




Then explain how the product will help solve the problem and try to convince your audience of the need for your product.




Spend the end clarifying where and when the product can be purchased.




Chronological structure




When you have something historical to tell, it is always good to use a chronological structure. You always have to ask yourself what happens next.




To make it more interesting and exciting, it is a good idea to start by telling the end of something and after that you explain how you got there. This way you make the audience curious and you can gain their attention faster.



Nancy Duarte TED Talk
Nancy Duarte is a speaker and presentation design expert. She gives speeches all over the world, trying to improve the power of public presentations.
In her famous TED Talk "The Secret Structure of Great Talks" she dissects famous speeches such as Steve Jobs' iPhone launch speech and Martin Luther King's "I have a dream" speech. In doing so, she found out that each presentation is made up of 4 parts:
What is
What could be
A moment to remember
Promise of "New Bliss"