When giving a presentation in english, there are certain guidelines you should follow. Maybe you haven't got a lot of experience presenting - or you would simply like to refresh your already existing knowledge - we're here to teach you the basics about presenting and provide you with a free list of useful phrases and the basic structure you can in your presentation!

1. Structure
The general structure of a presentation is the following:
Introduction
Main part
Conclusion
It is up to you to design these three parts. Using videos or everyday-examples can be a great way to introduce the audience to the topic. The important thing is that you capture the audience's attention from the beginning by making an interesting introduction. The main part is where you present your topic, ideally divided into sections. You can be creative with it - incorporate images, videos, stories or interactive polls. We generally recommend using different kinds of elements, as that makes the presentation more lively. Make sure your main part is well structured, so your audience can follow. In the conclusion, you should give a short summary of the points you made without adding any new information. You can also make an appeal to your audience in the end.
2. Useful Phrases
Here you'll find several phrases that you'll need in every presentation. Of course, you should adapt them and use them in a context that is suitable for your setting. The phrases are divided into subcategories so you can find what you're looking for more easily.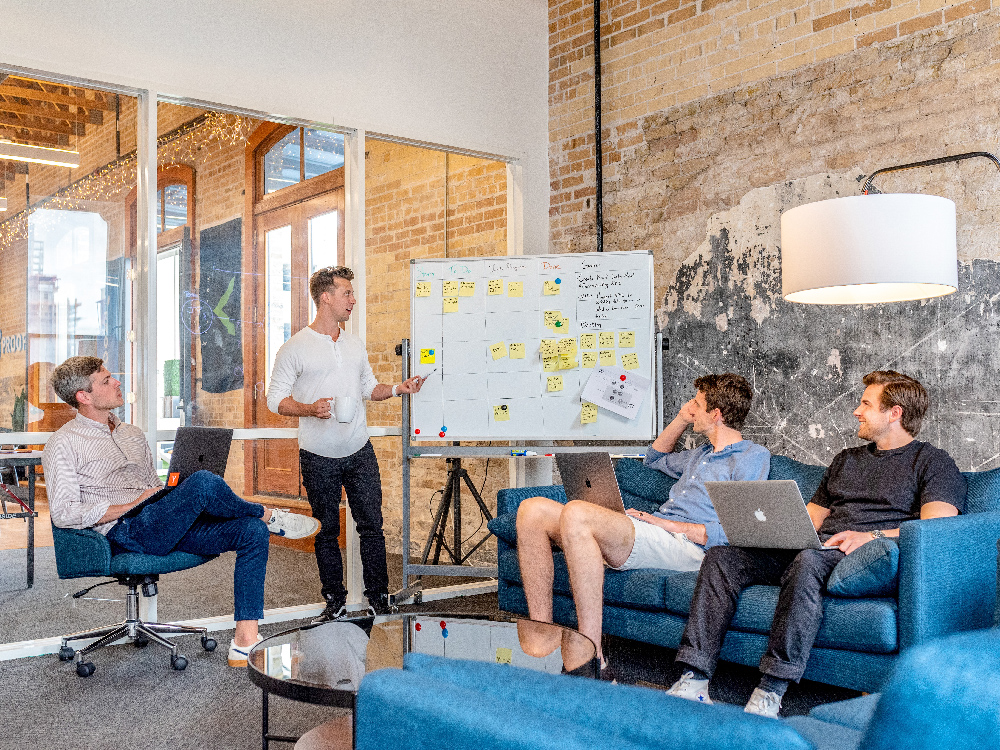 Starting your Presentation
In your introduction, you should:
Welcome your audience

Good morning/afternoon/evening everyone!

Ladies and gentlemen, I welcome you to my presentation about...




Introduce yourself

I am ... (from company ...) and today I would like to introduce you to the topic of ...

My name is ... and I am going to talk about ... today.




Icebreakers (for audience engagement)

Icebreaker polls are an amazing way to engage your audience instantly. They function as a fun and playful element at the beginning, giving you the perfect start you need to give a successful presentation. Click here to read our detailed post about icebreaker polls!




Mention the presentation topic and the reason for giving the presentation

I am grateful to be here today and tell you you about...

I would like to take this opportunity to talk about ...

I am here today to talk to you about ...

The reason why I am here today to talk about ... is ...

The purpose of this presentation is to ...

My goal today is to ...

Hopefully, by the end of the presentation, you will all know more about ...




Give a short overview of the content

To make it as understandable as possible, I divided my presentation into ... parts. In the first part, I will concentrate on ..., the second part will be about ..., ...

First of all, I will give you a short introduction, then we will move on to ...

... and finally, I will give you some insights to ...

Main Part
Here are a few phrases that you could use during the whole presentation, but especially in the main part.
Engage your audience

In order to raise the audience's attention and improve their engagement, it is extremely important to make contact with them. A great way to do so is by adding interactive elements such as polls. If you would like to know more about this topic, read our article on How To Boost Audience Engagement.

You can also use a software like SlideLizard, which allows you to conduct live polls, do Q&A sessions with your audience, share your resources and many more benefits that take your presentation to the next level.




Please raise your hand if you ...

Have you ever thought about ... ?

I would like to do a poll about ...

Please ask any questions as soon as they arrive.




Comparing

On one hand, … on the other hand…

Comparing … with …, we can see that…

Clearly, … makes more sense than …

Whereas Option A is …, Option B is …




Making new points

Firstly,… Secondly,…

What also has to be mentioned is…

Next, I would like to bring up the topic of…

That being said, now we are going to take a look at…

Let's move on to the next topic.

On the next slide,…

The last thing I would like to mention is…




Questions

We made a whole blog post about how to pose questions in your presentation: The Right Way to do a Question Slide.




Talking about images or videos

In this image you can clearly see that ...

We are now going to take a look at a picture/video of ...

I'm going to show you a video by ... about ... now.

I've prepared a video about ...




Talking about statistics and charts

I am now addressing this graph that refers to the results of study XY.

In the graph on this slide, you can see that ...

The average is at ...

This graph clearly shows that the majority ...

According to this graph, the focus should be on ...

What that study tells us for practice is that we should ...




Emphasizing

I would like to emphasize the importance of ...

Moreover, it has to be said that ...

I want to stress the importance of ...

We always have to remember that ...

This is of high significance because ...

That part is especially important because ...




When something goes wrong

I am sorry, but it seems like the projector isn't working.

Could someone please help me with ...?

Is anybody here who knows how to ...?

Could someone give me a hand with ...

I would like to apologize for ...

I apologize for the technical problems, we are going to continue in a minute.

I am sorry for the inconvenience.
End of Presentation
In the conclusion, you should...
Sum up the main points

In conclusion I can say that…

To sum up the main points,…

With all mentioned aspects taken into consideration, I can say that…




Make an appeal

So please, in the future, try to be conscious about...

Please take a moment to think about...

I would like to encourage you to...




Thank your audience and say goodbye

It was a pleasure being here today.

Thank you for listening and goodbye.

Thank you for being such a great, engaged audience. Goodbye.

Thank you so much for listening, see you next time.
FAQ
What is the structure of a presentation?
Your presentations should always have an Introduction, a Main part and a Conclusion.
What is a good way to begin a presentation?
You can start by introducing yourself, giving an overview of your topic, telling a little story or showing the audience an introductory video or image.
What are good phrases to use in English presentations?
There are many phrases that will make your presentation a lot more professional. Our blog post gives you a detailed overview.