In this blog post, you'll learn how you can add a narration for your PowerPoint presentation. Adding audio or video narration can be very helpful, especially in a time where many seminars and meetings have to be conducted online. If you would rather give your presentation using a live stream (which has many benefits), scroll down to the bottom and learn how you can do that!
Here's what you need for recording:
a microphone (your computer's microphone should do)
a finished set of PowerPoint slides
a video camera (only if you want to record video as well)
Video
Tutorial
Open your PowerPoint presentation or create a new one.
In the taskbar, select Slide Show. Then click Record Slide Show.
Choose the option Record from Beginning.

You'll now get to a different view, which we'll call "Recorder View". Here's an overview:

In the bottom right corner, you'll see three icons. The one on the left is for switching the microphone on/off. Make sure this function is turned on. The icon in the middle is for turning on/off your camera. You can choose if you want to switch the video recording on or not. The last icon is only available if you've chosen the video recording function. If the function is enabled, you'll be able to see a video preview.
In the top right corner under "Settings", you can choose what microphone (and camera) you'd like to use. This is only relevant if you have an external recording device that you would like to use. If you're recording with your computer, you don't have to set anything here.
Now it's time to record. Click the big red Record button on the top left and start speaking.
Tip: You can either record all the slides at once without pressing pause, or you record each slide individually, then click pause, then go on to the next slide and record again. However, it's important to note that PowerPoint creates an individual audio file for each slide, even if you record all at once.
Important: PowerPoint does not record during transitions, so only speak when you're on a slide.
You can also draw on your slides with the painting tools on the bottom. These drawings will be saved to your presentations.
On the bottom left corner, you'll see what slide you're on. You can also see two time counts. The first one is for the recording on the current slide, the second one is for the recording of the presentation overall.
If you want to delete the whole voiceover, click Clear and Clear Recordings on all Slides. If you only want to delete the recording on the specific slide you are on, click Clear Recording on current Slide.
If you want to re-record the audio from one slide after deleting it, just go to that slide and click Record again. Record what you want to say, then click Stop when you're done.
Once you're done, leave the Recorder View. Click the small x in the top right corner or hit Esc.
You can now either save the presentation as a regular PowerPoint file (just click Save and you're done) or as a video. If you'd like a video, follow the instructions below:
Save Presentation as Video
Go to File in the PowerPoint taskbar

Choose Export on the left, then Create a Video.

Select the quality you'd like. We recommend Full HD (1080p).
In the following drop-down menu, make sure Use Recorded Timings and Narrations is selected.

The setting Seconds spent on each slide is only for the slides where there is no recording (if you have recordings on all of your slides, you can just ignore this setting.)
Click Create Video and choose where the video should be saved. The video creation might take a while, so don't close PowerPoint right away!
Live interaction with polls & quizzes
If you prefer to give a talk where you can also interact with your audience, then the free software SlideLizard is the ideal solution! Using live polls, Q&A and feedback, your presentations will become even more exciting and interactive. SlideLizard integrates directly with PowerPoint, making it a breeze to use.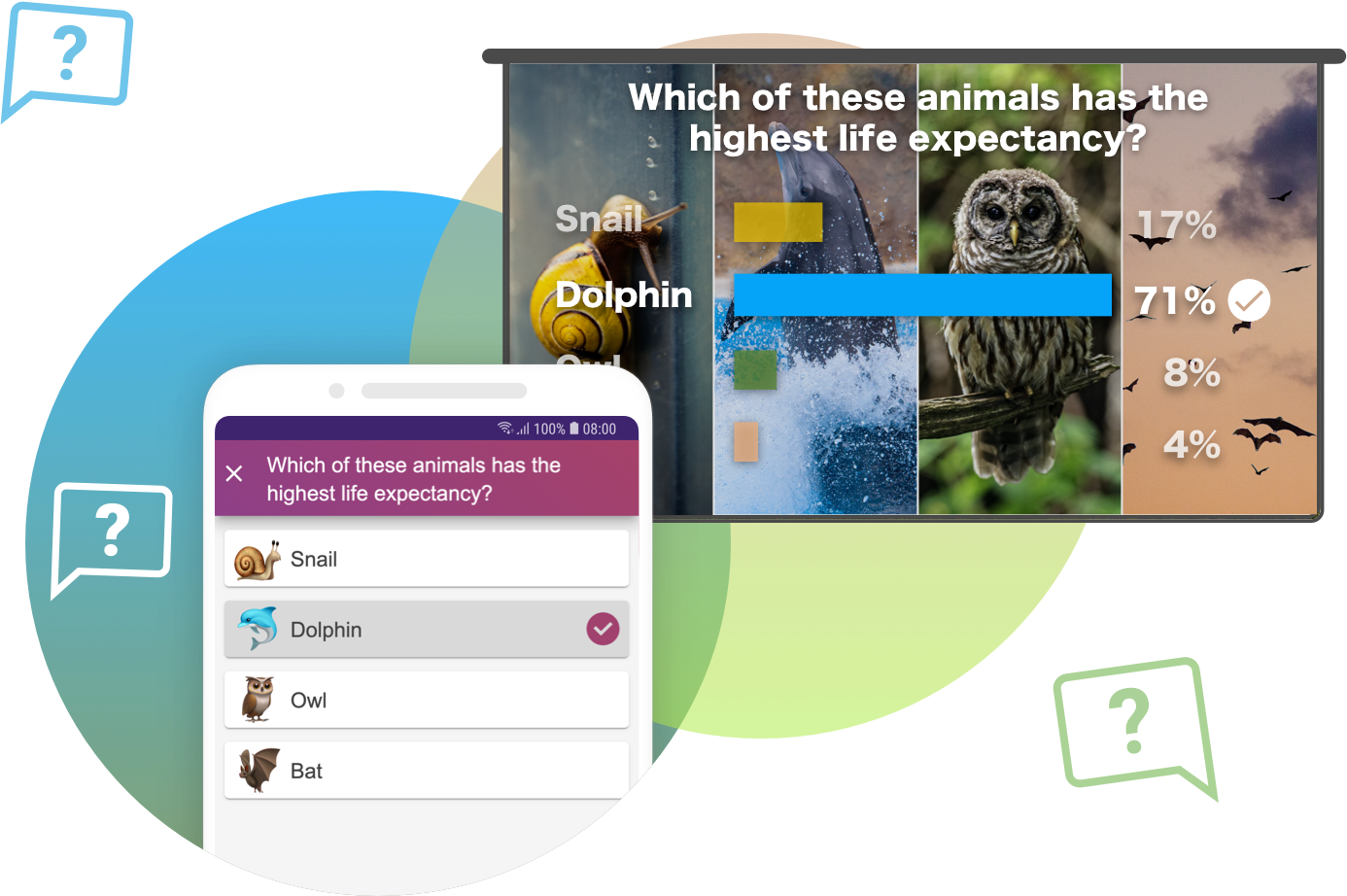 FAQ
Can I record a presentation in PowerPoint?
Yes, PowerPoint also allows you to record your presentation with voice and video narration. You can read about how this works in our blog.
How can I record a presentation in PowerPoint with audio and video?
At first create your presentation. For the recording you will need a microphone (the one on your computer should do), your finished presentation and a video camera (if you also want to record a video). We have created a tutorial on our blog where you can read the further steps.