Corporate Design is a crucial part of any successful business strategy. It helps reinforce a company's identity and sets it apart from competition. In this blog post, we will delve into what the term Corporate Design means, why it is so important for a business, and how it is implemented in practice.
What is Corporate Design?
Corporate Design refers to the visual design of a company, including the use of colors, fonts, symbols, and other graphic elements. It aims to support the brand of a company and ensure a consistent visual appearance in all communication efforts.
Why is Corporate Design important?
A strong Corporate Design can help build customer trust and positively influence the perception of a company. It also focuses the attention of the target audience on the company's products or services and increases the company's recognition.
Elements of Corporate Design
The key elements of Corporate Design are colors, fonts, logos, and images. Colors play a essential role in creating a visual identity and should be chosen carefully. Images and photographs can be used to support the message of the company and strengthen the identity. Fonts and logos are also important components as they make the company memorable and recognizable.
Corporate Design in Practice
A significant aspect of implementation is the creation of Corporate Design Guidelines. These guidelines define how the Corporate Design should be applied and ensure that it is applied across all platforms and media. Corporate Design is implemented in practice by applying it to all of the company's visual communication materials. However, it is not limited to business cards, brochures, posters, and the website, but is also of crucial importance for presentations.
Corporate Design in Presentations
An impactful presentation is a crucial component of any successful business communication. It ensures that the company's message is clearly conveyed and that the company stays positively in mind. However, to achieve this, it is necessary that the corporate design is consistently applied in presentations.
With the SlideLizard CREATOR, you can easily and effectively incorporate the corporate design into presentations. The tool allows you to implement corporate design guidelines and ensure that the design is applied consistently across all presentations. This way, you can ensure that presentations look professional and the company's identity is strengthened. The "CI compliance ensured" feature allows errors in custom branding to be easily detected and fixed with just a few clicks.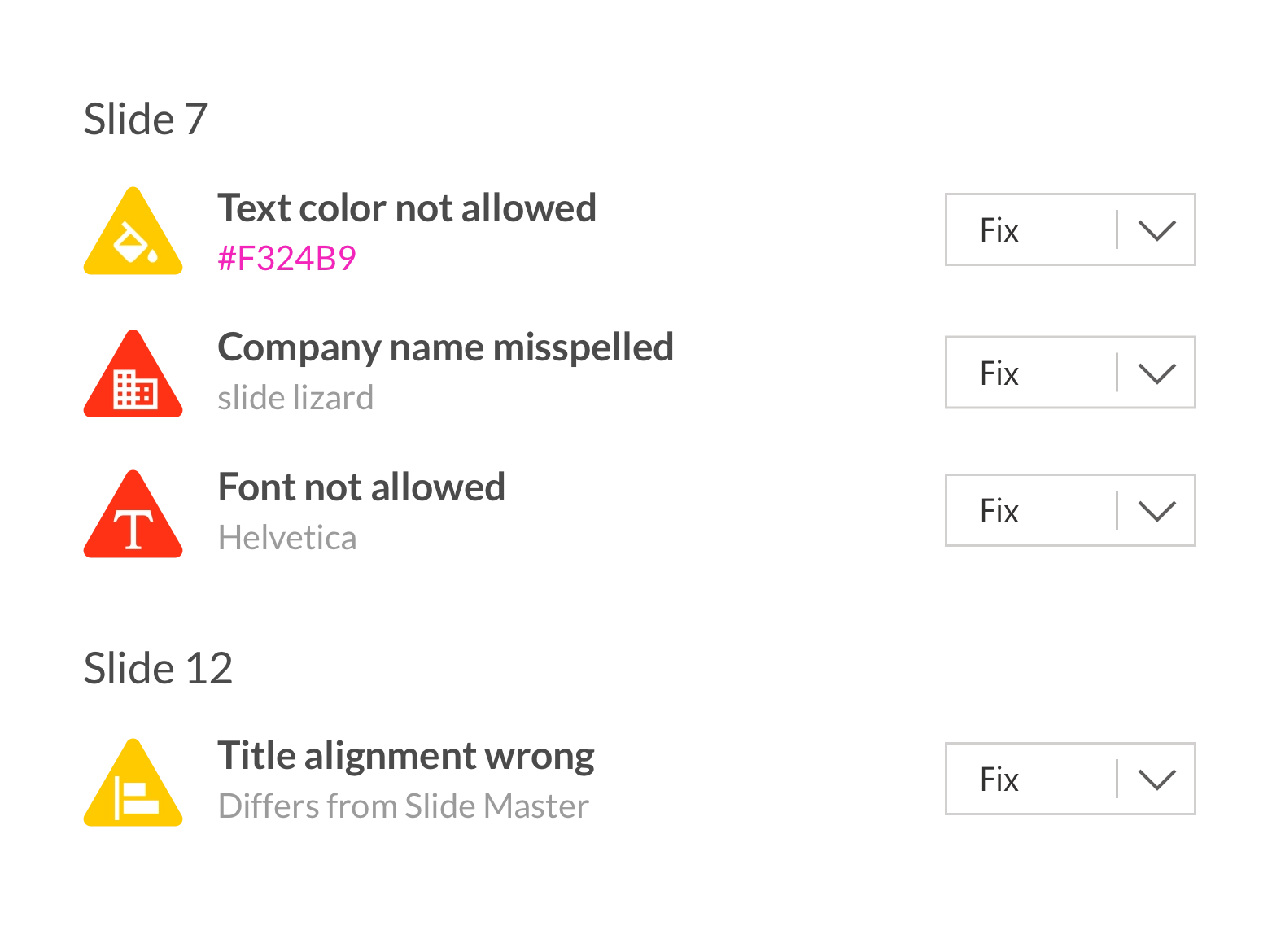 In addition, SlideLizard also offers the option to easily update locally changed slides. Thanks to the automatic updates, every employee presents the latest slides. After updating a slide, everyone who has access to the slide will receive the new version. By clicking on the "new slide", the updated version is adopted. However, during this process, the old version is also stored, so nothing is lost.
With the SlideLizard CREATOR product, you can always keep the corporate design in your presentations up to date without having to spend much time on it.
FAQ
What is a Corporate Design?
Corporate Design refers to a company's visual identity, including the use of colors, fonts, symbols, and other graphic elements.
Why is Corporate Design so important?
A strong Corporate Design can help establish customer trust in a company and positively influence the company's perception.