In this blog post, we not only have a table with various sizes for social networks, but also instructions on how to export your PowerPoint slides as images or videos. After that, we have a variety of templates for you to download.
You can create social media graphics in PowerPoint without much work and use them in your company, for example. This way, all posts on the social networks of a company are consistent. What's more, every employee has access to PowerPoint and no extra programme is needed. To make the whole thing even more uniform, we recommend that you create a theme design.
Format slide size
In order for the slides to have the correct size, you must change them beforehand. To do this, you have to go to the "Customize" group in the "Design" tab and click on "Slide size".


To be able to use any size, you must click on "Custom slide size". Now you can enter your desired size for the width and height and confirm the whole thing with "OK".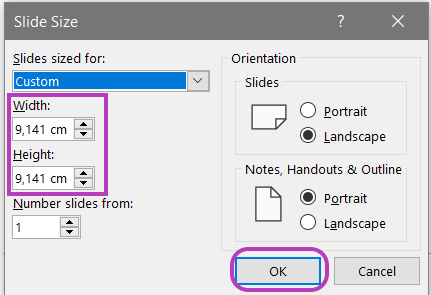 Various sizes for social networks
| | Feed-Image | Story-Image |
| --- | --- | --- |
| Facebook | 1200 x 1500 Pixel | 1080 x 1920 Pixel |
| Twitter | 1200 x 675 Pixel | |
| Instagram | 1080 x 1080 Pixel | 1080 x 1920 Pixel |
| TikTok | 1080 x 1920 Pixel | |
| LinkedIn | 1200 x 1200 Pixel | |
Guidelines for better designing
To make it easier to create various graphics, you can have different grids and lines displayed. To do this, right-click on any slide. Now you can display various lines under "Grid and "Guidelines", which makes it easier to create graphics.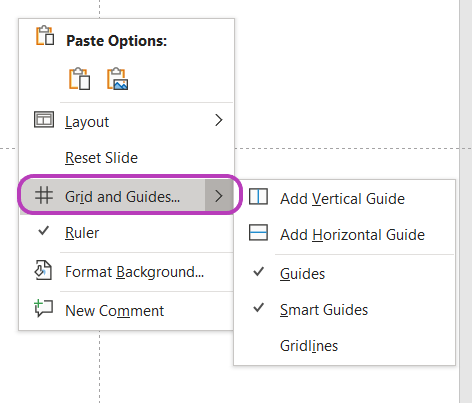 Export as image or video
Exporting a PowerPoint slide as an image
To do this, you must go to "Save as" under "File". Next, you need to give your file a name under "File name". So that you can save your slide as an image, you must go to "File type" and select JPG or PNG instead of PowerPoint presentation. Now you only have to click on "Save" and you have already saved your PowerPoint slide as an image.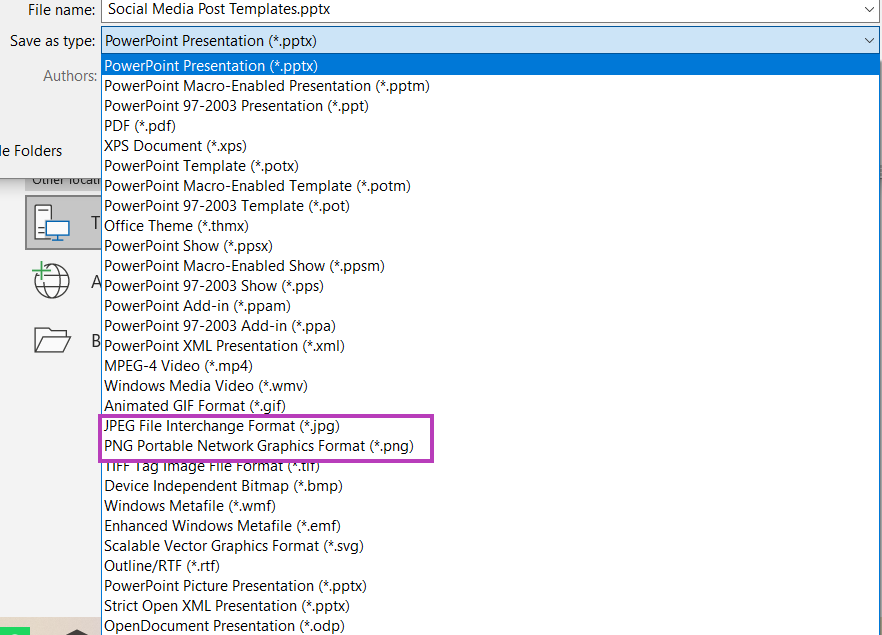 Exporting PowerPoint slides as a video
For example, you have inserted an animation in your PowerPoint and you want to export this as a video, you will find detailed step-by-step instructions in our blog post, exporting a PowerPoint presentation as a video.
Download Free Social Media Template