Sometimes, the file size of your PowerPoint presentation can get very big. In some cases, that can be annoying, e.g. when trying to send the slides via email, but not being able to do so because the file is too large. Usually, pictures and videos are the reason why presentations become too big. The good news are that you can easily compress pictures and embedded media files by following the steps listed below.
Contents
Compress images
PowerPoint offers the option to compress all images at once or choose single pictures to reduce their file size. Keep in mind, that compressing an image will automatically reduce its quality as well. If you don't need to reduce the file size, better use the highest quality resolution as possible.
There are two ways to compress images within your PPT file which nearly work the same way:
Compress selected pictures
Select the image you want to compress or any picture if you wish to reduce the size of all graphics
Navigate to the Picture Tools Format tab and select Compress Pictures
A new menu pops up. Choose your compression options and make sure to check "Delete cropped areas of pictures" and uncheck "Apply only to this picture" (if you want to compress all images)
Choose the resolution you need. The following are available:

High fidelity: preserves quality of the original picture
HD (330 ppi): good quality for high-definition (HD) displays
Print (220 ppi): excellent quality on most printers and screens
Web (150 ppi): good for web pages and projectors
E-mail (96 ppi): minimize document size for sharing
Use default resolution

Hit OK
Compress all images while saving the PPT file
Open your presentation. Go to File in the PowerPoint menu
Click Save as and then Browse
In the window that opens, click on Tools (right beside Save)
Select Compress Pictures and choose the resolution you need
To save even more space, you can additionally choose Delete cropped areas of pictures to remove the parts of pictures which you cropped in PowerPoint.

Click OK and then Save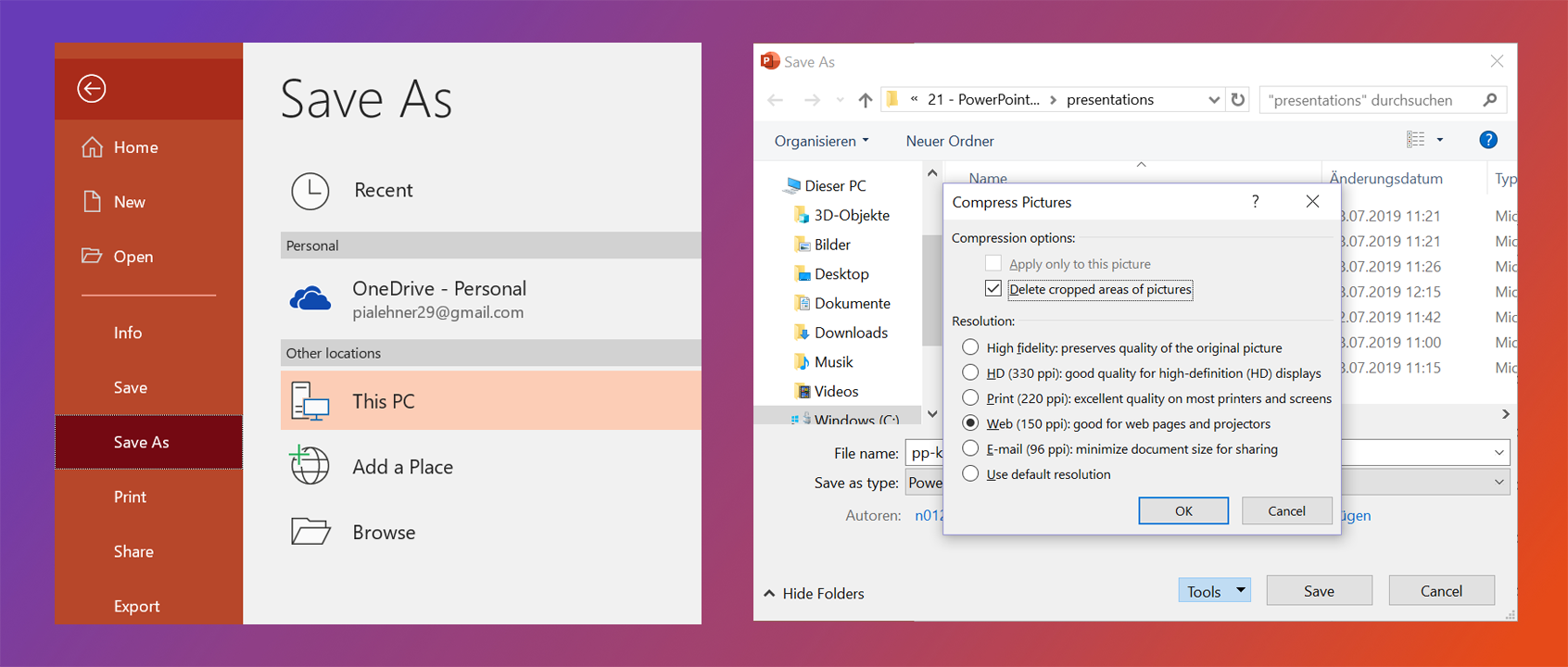 Compress videos and audios
Video and audio files can increase your PPT size a lot. It's a good idea to compress those if you want to make some space. Some PowerPoint versions make it possible to decrease the media size in PPT but if this option is missing in your program, online video compressors are the solution.
Compress videos and audios in PPT
Go to File in the PowerPoint menu
Click Info
Open the Compress media drop down
Choose a compression file size. Don't reduce the quality too much and check if the appearance of your media doesn't look too grainy on the actual projector you will be presenting on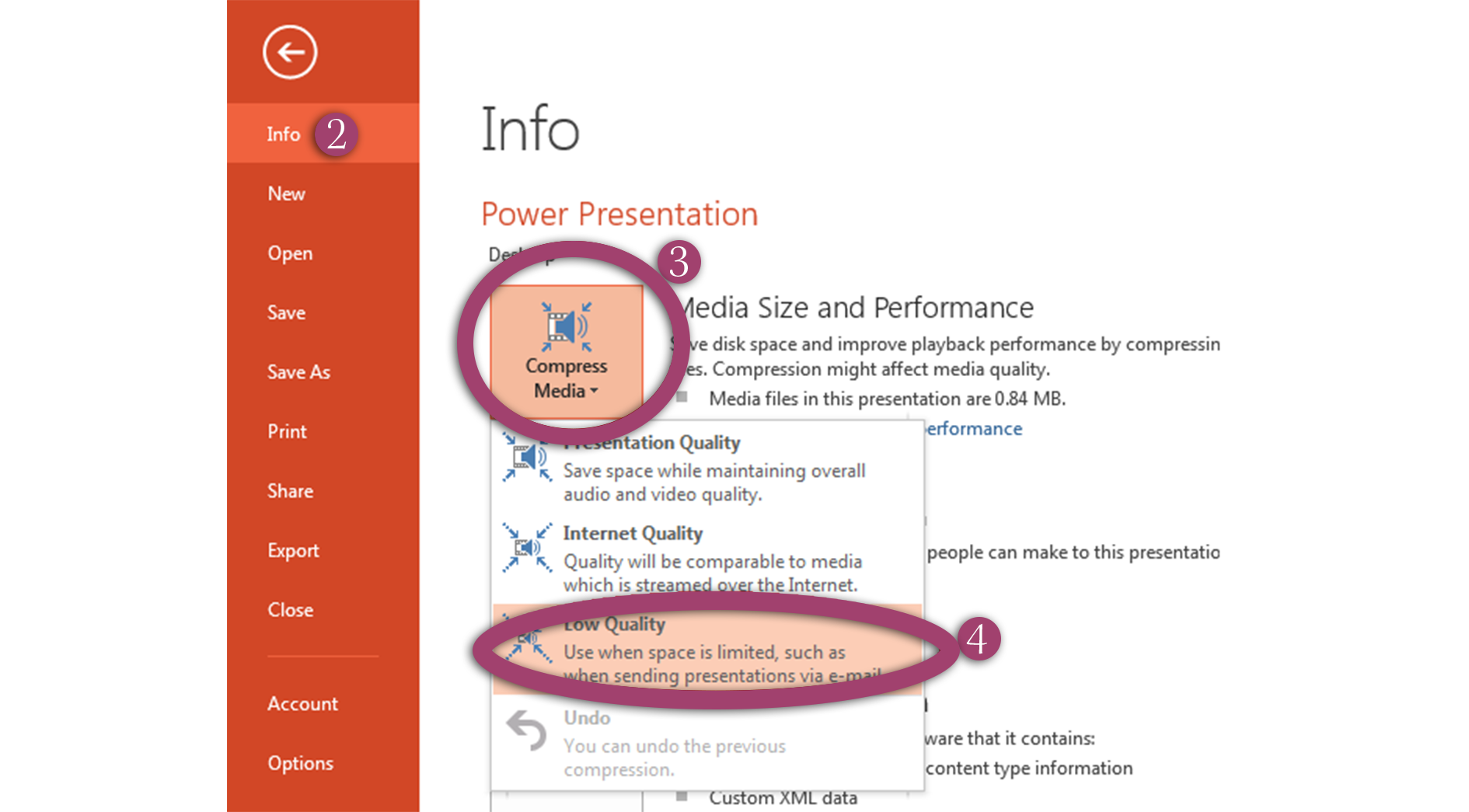 Online video compressor
There are plenty of online video compressors which you can use to reduce the video size in advance. For example, the website FreeConvert makes it easy to decrease the file size without having to download anything. This way you can integrate a smaller media file into PPT.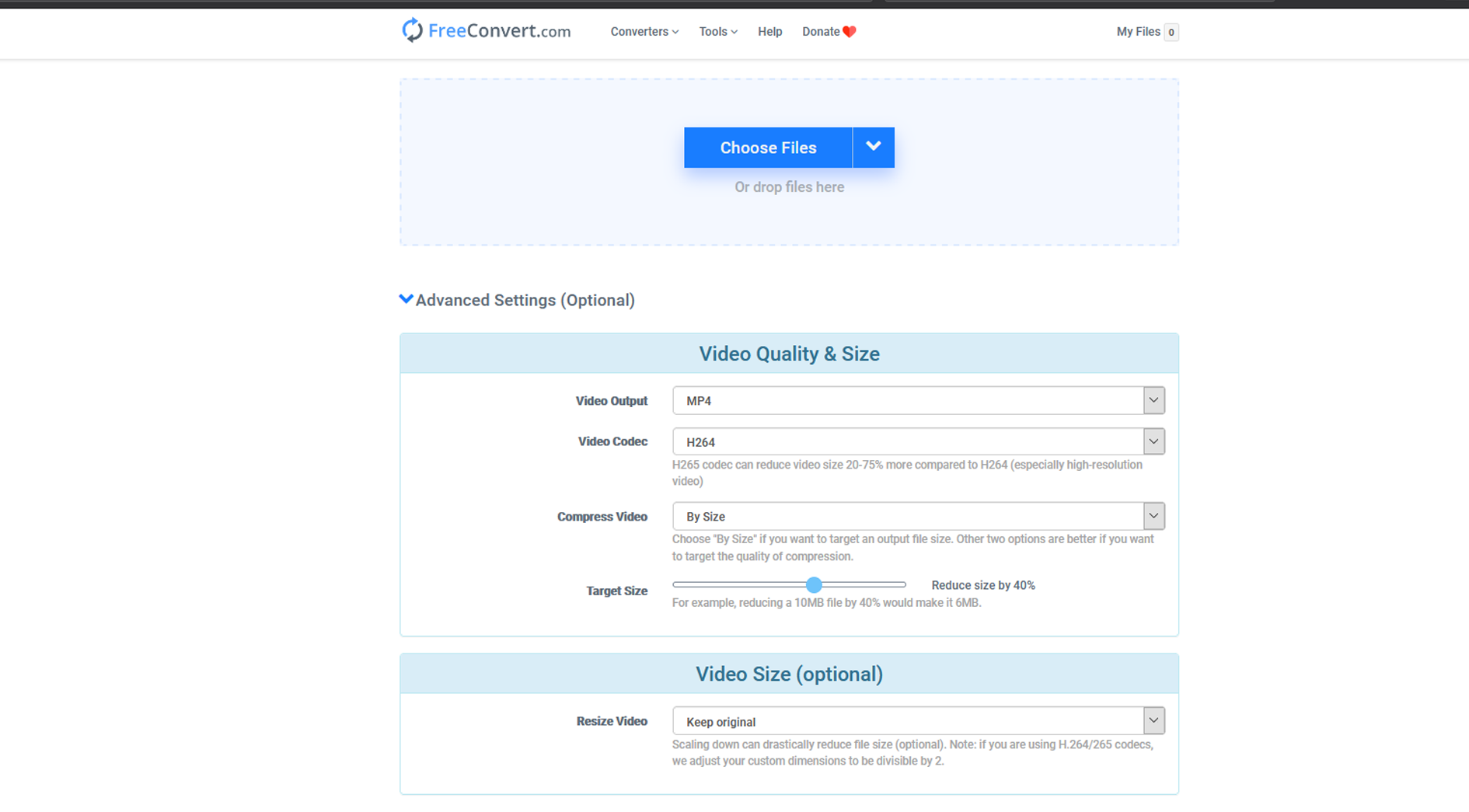 Links instead of videos
Instead of importing a video to your PPT slides, including a link to your PowerPoint presentation can save a lot of space. If your video is somewhere on YouTube or other online video-sharing platforms, include a link and use it when you're presenting.
But notice: a link can only be used, if you're connected with wifi. Watching videos online, can take time and a bad connection might give you some unwanted breaks during your presentation. In this case, saving the video on your disk and opening it separately can save time and still reduce the size of the PPT.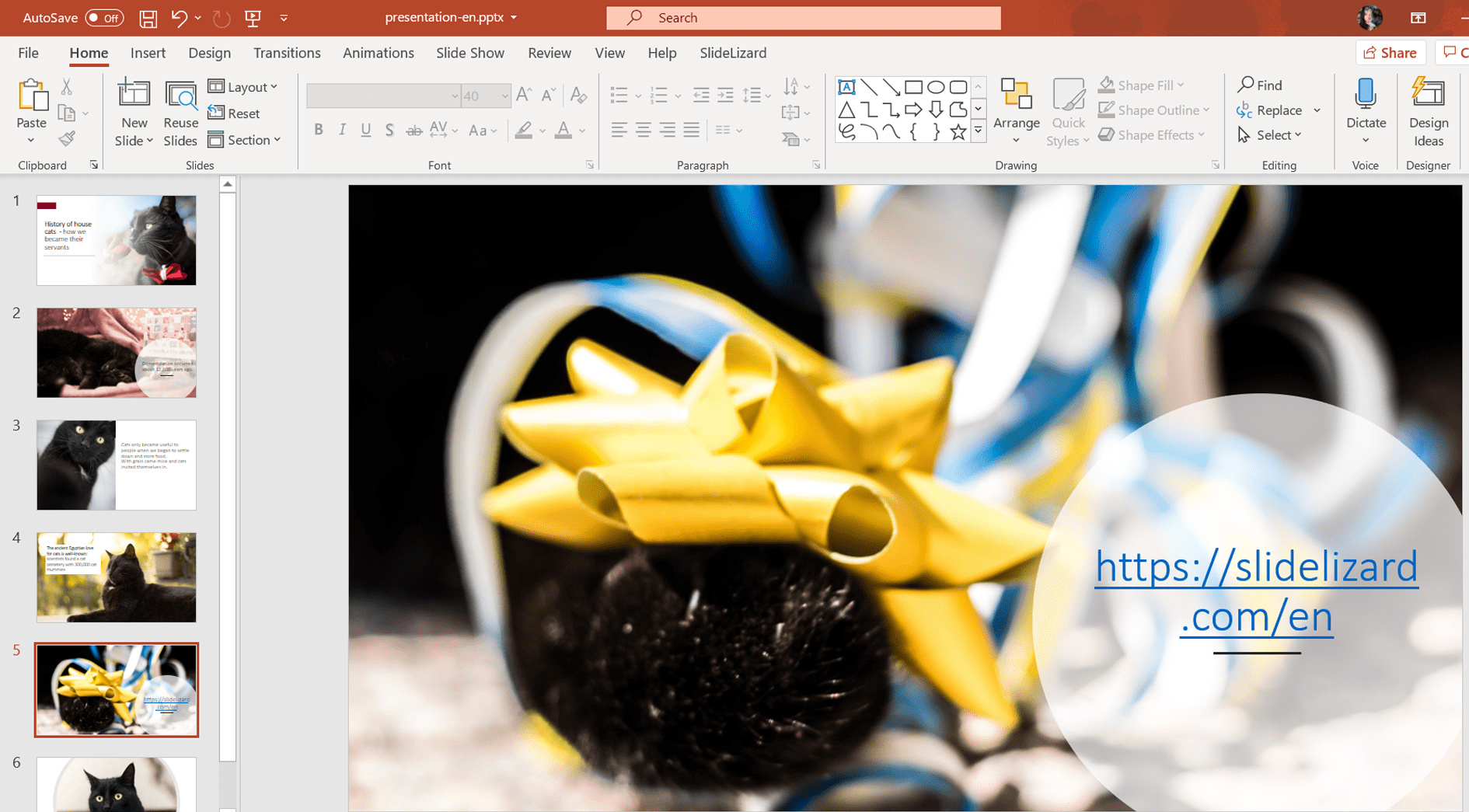 Convert PPT to PDF
By converting a PowerPoint file into a PDF, the size will reduce automatically. During the process, images get compressed and some media (audio, videos, 3D models..) get removed. If you want to change the PowerPoint slides at all time, this method might not be the right one for you, as PDF files can't get edited the way a PowerPoint can. Hence, converting PPT into PDF only makes sense if your presentation will work as a handout and if the PDF files options are enough for you.
Go to File in the PowerPoint menu
Click Export
Hit the Create PDF/XPS button
Choose a location in which you want to save your PDF file
Click Publish
Get rid of 3D models
The Office 365 subscription makes it possible to add 3D models to your PowerPoint slides. Nevertheless, those media require much space since they transport a lot of information. In order to minimize the PPT file, exchanging the 3D model with a normal image will easily reduce the size of your PowerPoint file.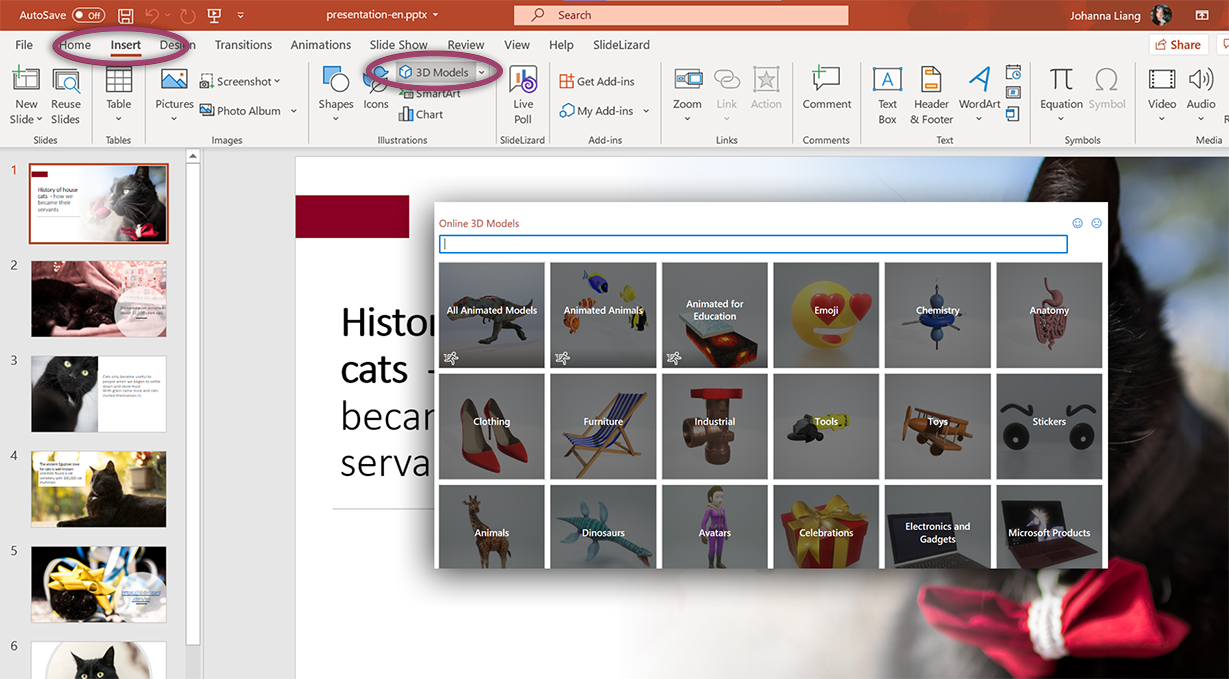 Compress PPT as ZIP- file
If you need to share your PPT with someone, a ZIP- file format might help you to reduce the size of the PowerPoint. Even though, this method can save some place temporally, it might not be enough to send it via email. Uploading it to file-sharing platforms, such as GoogleDrive, DropBox, OneDrive or other websites and sharing its link to download the PPT, can be the better option. (Using an USB for sharing the presentation without the need to decompress anything would be the best solution)
Here's how to convert a PPT into a ZIP- file format:
Select the file you want to minimize in the File Explorer
Right-Click the file and hit Send to
Choose the Compressed (zipped) folder option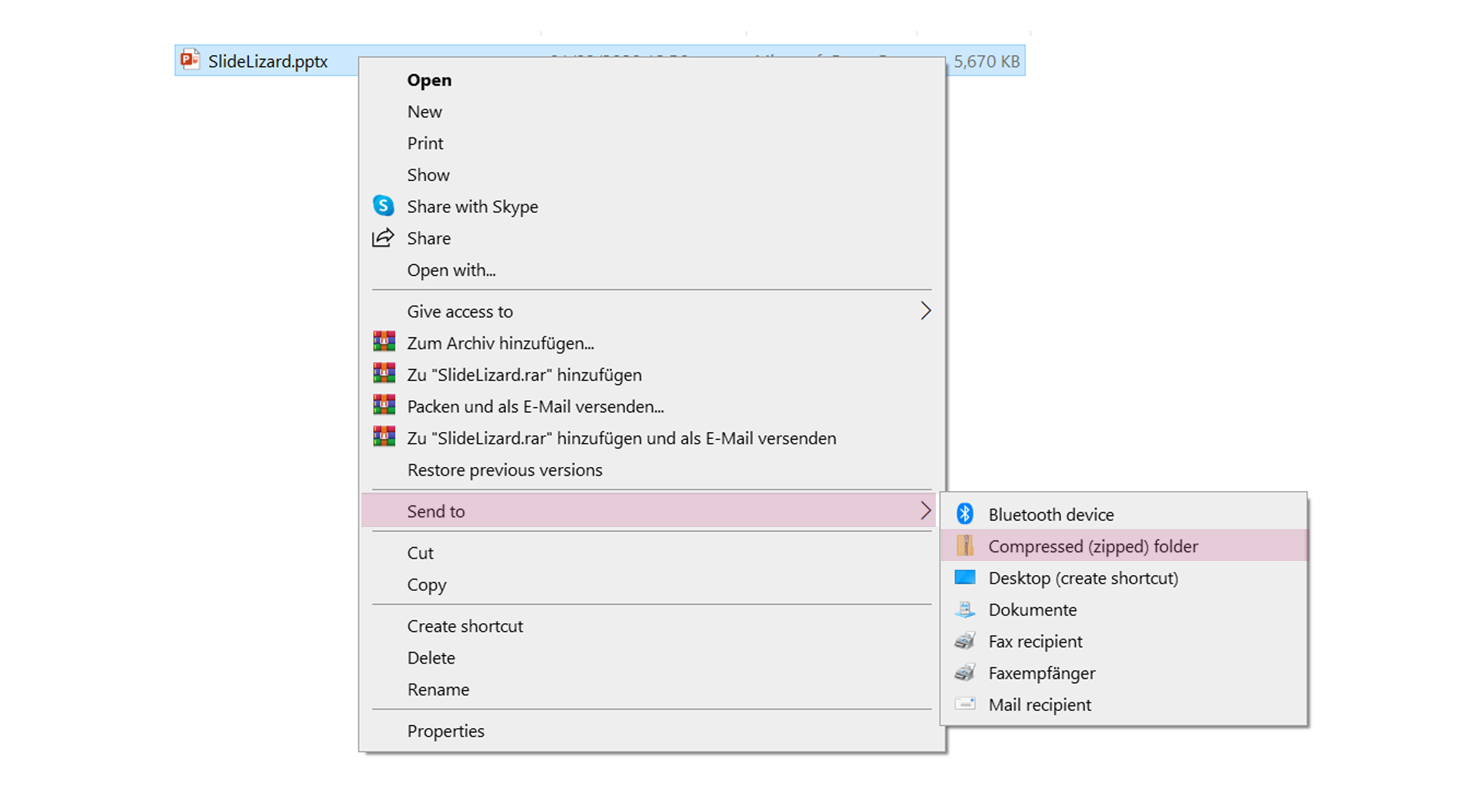 If you want to decompress a ZIP- file into its original PowerPoint format:
Right-Click on your ZIP- folder
Select Extract All... or the similar operation of your program
Choose a File Location to extract your file to, or extract it at the place you are currently at