Do you know whether you are a good presenter or not? If you do, chances are it's because people have told you so - they've given you feedback. Getting other's opinions about your performance is something that's important for most aspects in life, especially professionally. However, today we're focusing on a specific aspect, which is (as you may have guessed from the title): presentations.
Content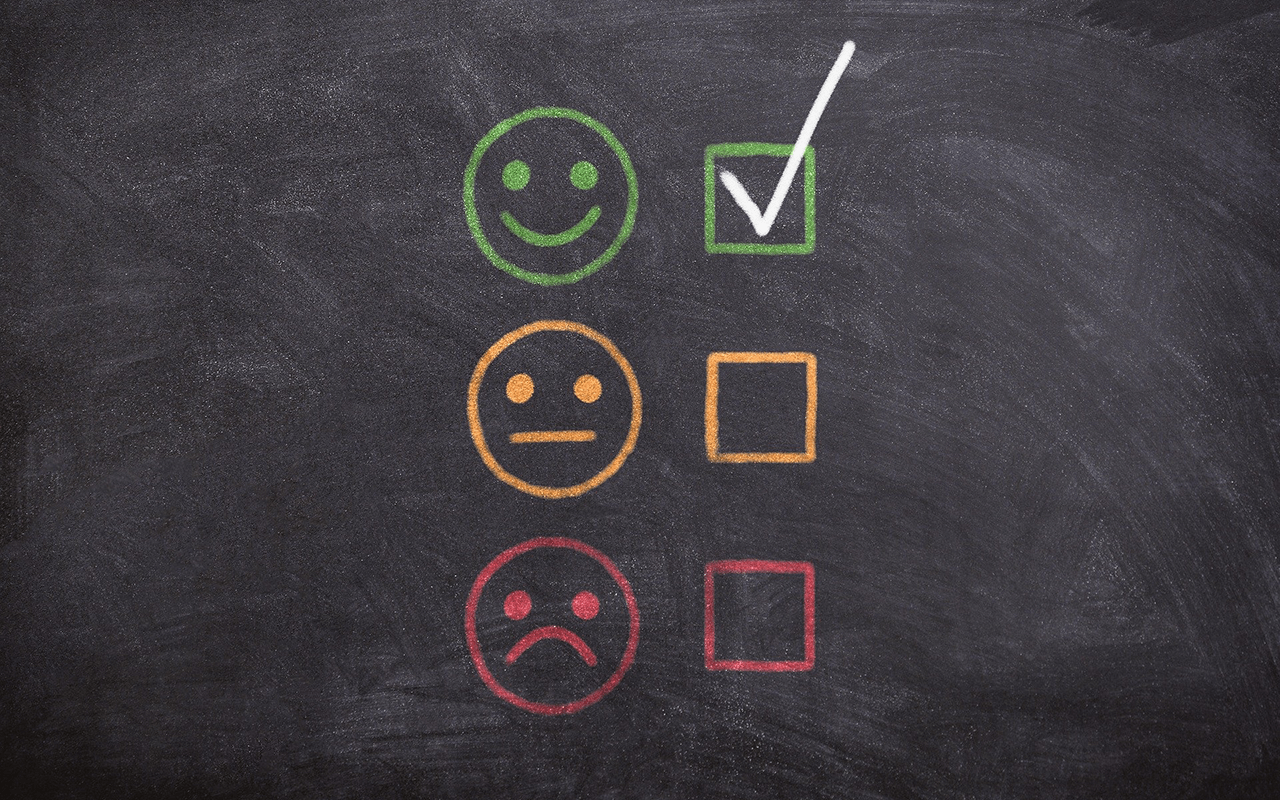 The importance of feedback
Take a minute to think about the first presentation you've given: what was it like? Was it perfect? Probably not. Practise makes perfect, and nobody does everything right in the beginning. Even if you're a natural at speaking and presenting, there is usually something to improve and to work on. And this is where feedback comes in - because how are you going to know what it is that you should improve? You can and should of course assess yourself after each and every presentation you give, as that is an important part of learning and improvement. The problem is that you yourself are not aware of all the things that you do well (or wrong) during your presentation. But your audience is! And that's why you should get audience feedback.
Qualities of good Feedback
Before we get into the different ways of how you can get feedback from your audience, let's briefly discuss what makes good feedback. P.S.: These do not just apply for presentations, but for any kind of feedback.
Good feedback is constructive, not destructive. The person receiving feedback should feel empowered and inspired to work on their skills, not discouraged. You can of course criticize on an objective level, but mean and insulting comments have to be kept to yourself.
Good feedback involves saying bot what has to be improved (if there is anything) and what is already good (there is almost always something!)
After receiving good feedback, the recipient is aware of the steps he can and should take in order to improve.
Ways of receiving / giving Feedback after a Presentation
1. Print a feedback form
Let's start with a classic: the feedback / evaluation sheet. It contains several questions, these can be either open (aka "What did you like about the presentation?") or answered on a scale (e.g. from "strongly disagree" to "strongly agree"). The second question format makes a lot of sense if you have a large audience, and it also makes it easy to get an overview of the results. That's why in our feedback forms (which you can download at the end of this post), you'll find mainly statements with scales. This has been a proven way for getting and giving valuable feedback efficiently for years. We do like the feedback form a lot, though you have to be aware that you'll need to invest some time to prepare, count up and analyse.
Pro's:
ask specifically what you want to ask
good overview of the results
anonymous (people are likely to be more honest)
easy to access: you can just download a feedback sheet online (ours, for example, which you'll find at the end of this blog post!)
Con's:
analysing the results can be time-consuming
you have to print out the sheets, it takes preparation
2. Online: Get digital Feedback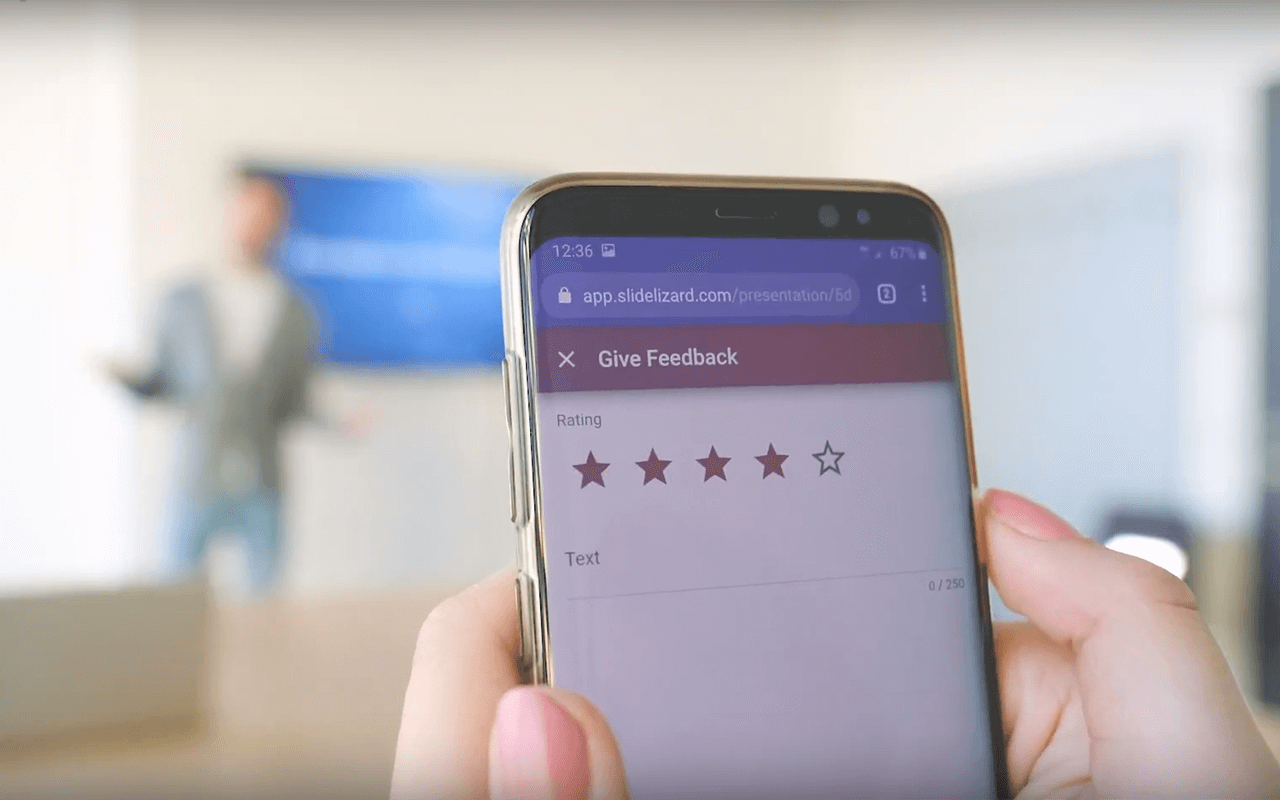 In the year 2020, there's got to be a better way of giving feedback, right? There is, and you should definitely try it out! SlideLizard is a free PowerPoint extension that allows you to get your audience's feedback in the quickest and easiest way possible. You can of course customize the feedback question form to your specific needs and make sure you get exactly the kind of feedback you need. Click here to download SlideLizard right now, or scroll down to read some more about the tool.
Pro's:
ask specifically what you want to ask
quick and easy to access
easy and fast export, analysis and overview of feedback
save feedback directly on your computer
anonymous
Con's:
Participants need a working Internet connection (but that usually isn't a problem nowadays)
3. Verbal Feedback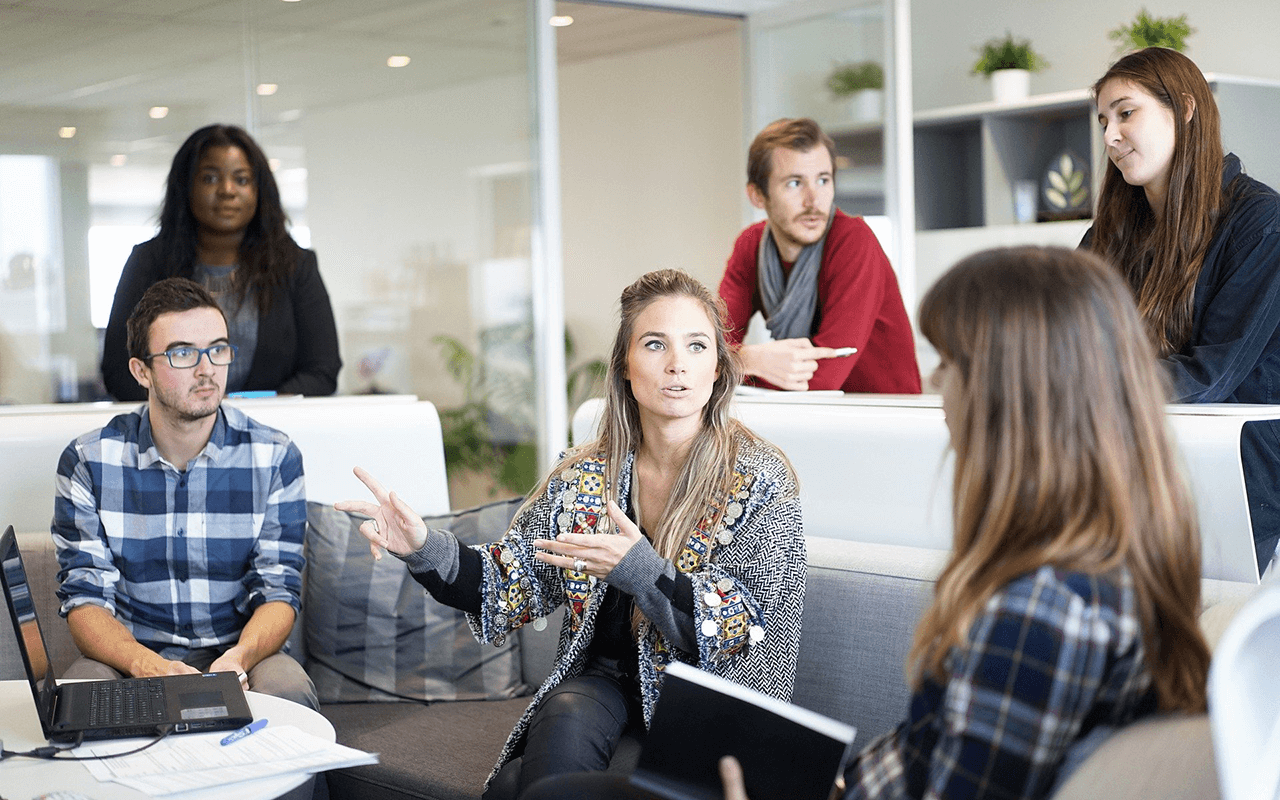 "So, how did you like the presentation?", asks the lecturer. A few people in the audience nod friendly, one or two might even say something about how the slides were nice and the content interesting. Getting verbal feedback is hard, especially in big groups. If you really want to analyse and improve your presentation habits and skills, we recommend using one of the other methods. However, if you have no internet connection and forgot to bring your feedback sheets, asking for verbal feedback is still better than nothing.
Pro's:
no prerequisites
open format
okay for small audiences
Con's:
not anonymous (people might not be honest)
time consuming
no detailed evaluation
no way to save the feedback (except for your memory)
not suitable for big audiences
Feedback to yourself - Self Assessment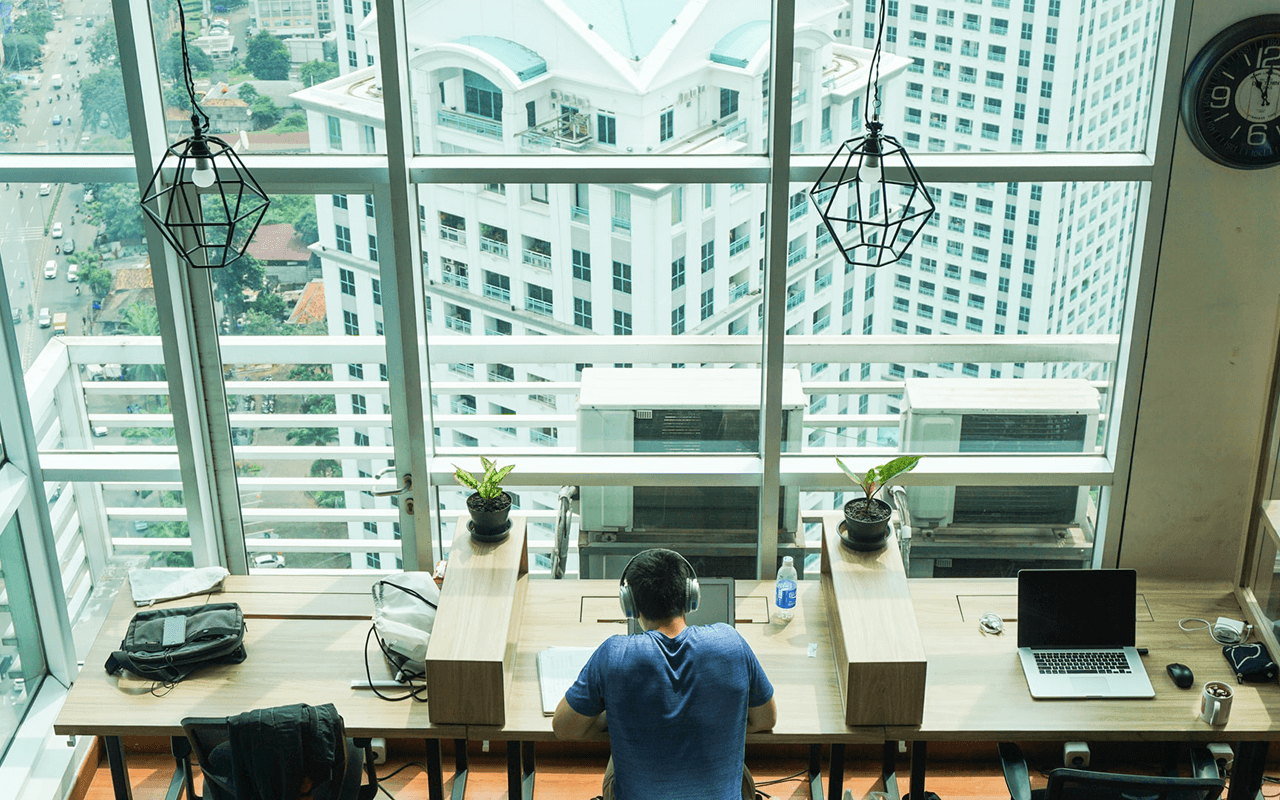 I've mentioned before that it is incredibly important to not only let others tell you what went well and what didn't in your presentation. Your own impressions are of huge value, too. After each presentation you give, ask yourself the following questions (or better yet, write your answers down!):
What went wrong (in my opinion)? What can I do in order to avoid this from happening next time?
What went well? What was well received by the audience? What should I do more of?
How was I feeling during this presentation? (Nervous? Confident? ...)
Tip: If you really want to actively work on your presentation skills, filming yourself while presenting and analysing the video after is a great way to go. You'll get a different view on the way you talk, move, and come across.

Digital Feedback with SlideLizard
Were you intrigued by the idea of easy Online-feedback? With SlideLizard your attendees can easily give you feedback directly with their Smartphone. After the presentation you can analyze the result in detail.
type in your own feedback questions
choose your rating scale: 1-5 points, 1-6 points, 1-5 stars or 1-6 stars;
show your attendees an open text field and let them enter any text they want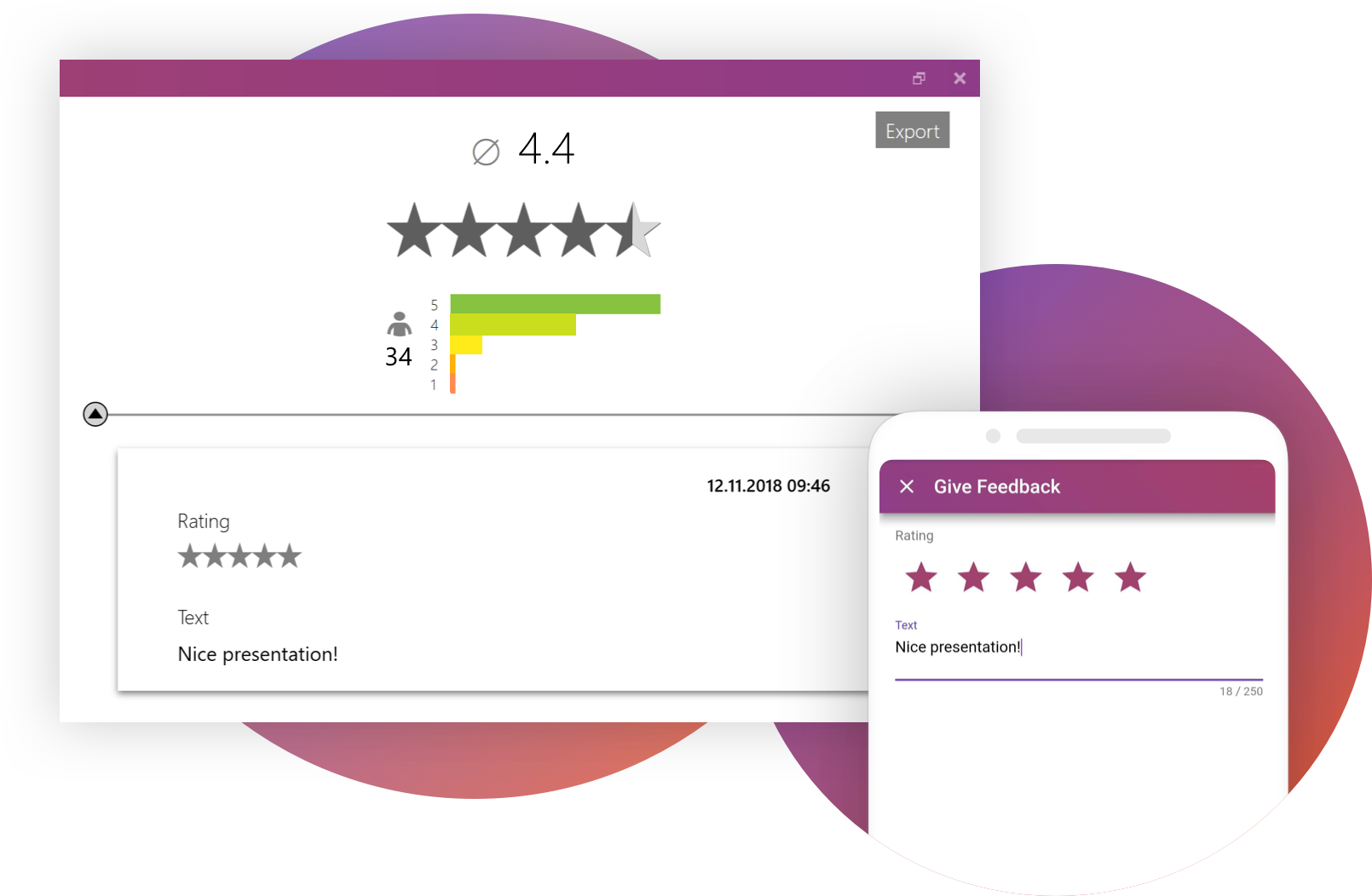 Note: SlideLizard is amazing for giving and receiving feedback, but it's definitely not the only thing it's great for. Once you download the extension, you get access to the most amazing tools - most importantly, live polls and quizzes, live Q&A sessions, attendee note taking, content and slide sharing, and presentation analytics. And the best thing about all this? You can get it for free, and it is really easy to use, as it is directly integrated in PowerPoint! Click here to discover more about SlideLizard.
Free Download: Printable Feedback Sheets for Business or School Presentations
If you'd rather stick with the good old paper-and-pen method, that's okay, too. You can choose between one of our two feedback sheet templates: there is one tailored to business presentations and seminars, and one that is created specifically for teachers assessing their students. Both forms can be downloaded as a Word, Excel, or pdf file. A lot of thought has gone into both of the forms, so you can benefit as much as possible; however, if you feel like you need to change some questions in order to better suit your needs, feel free to do so!
Feedback form for business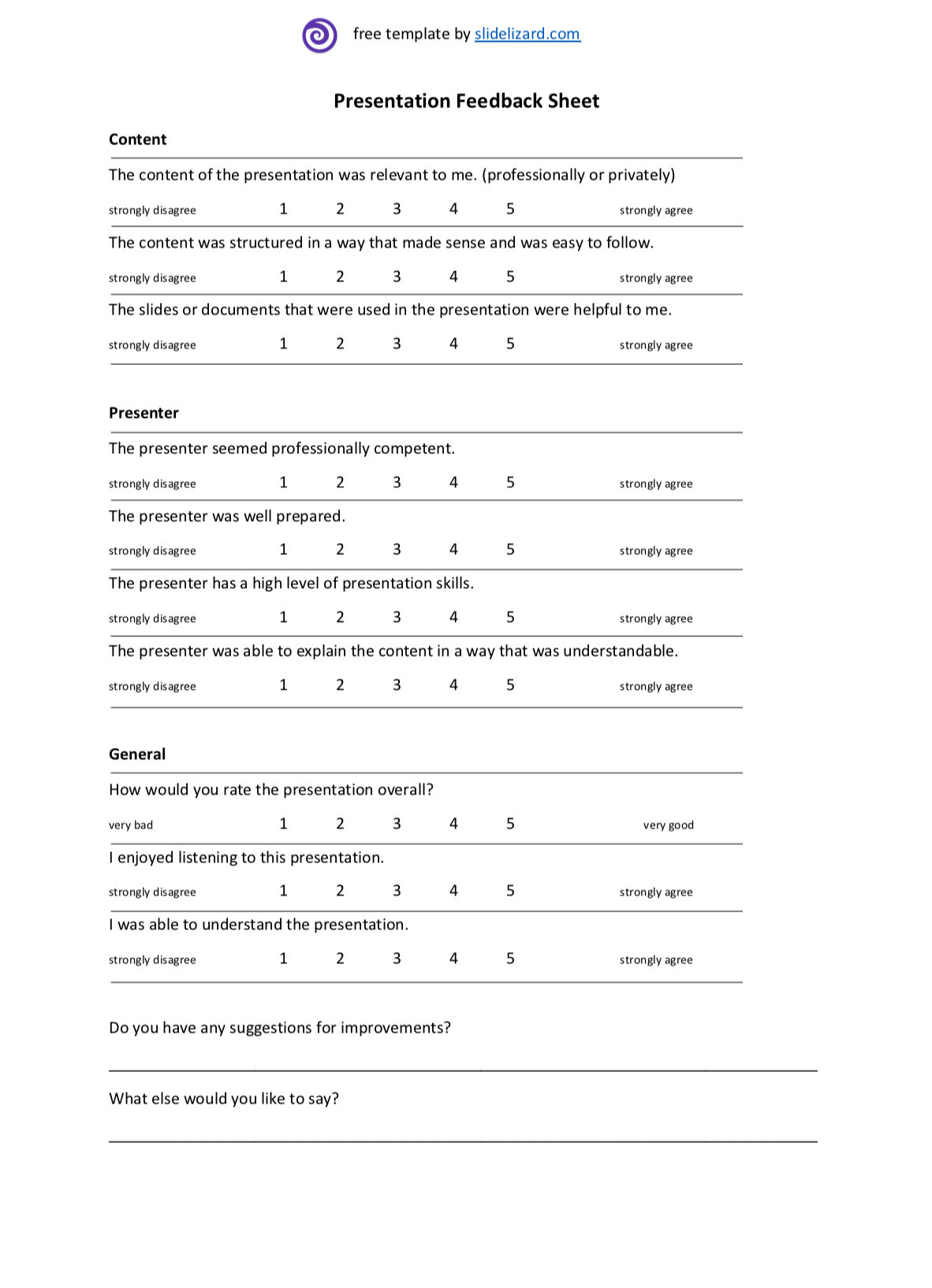 Template as PDF, Word & Excel - perfect for seminars, trainings,...


Download now
Feedback form for teachers (school or university)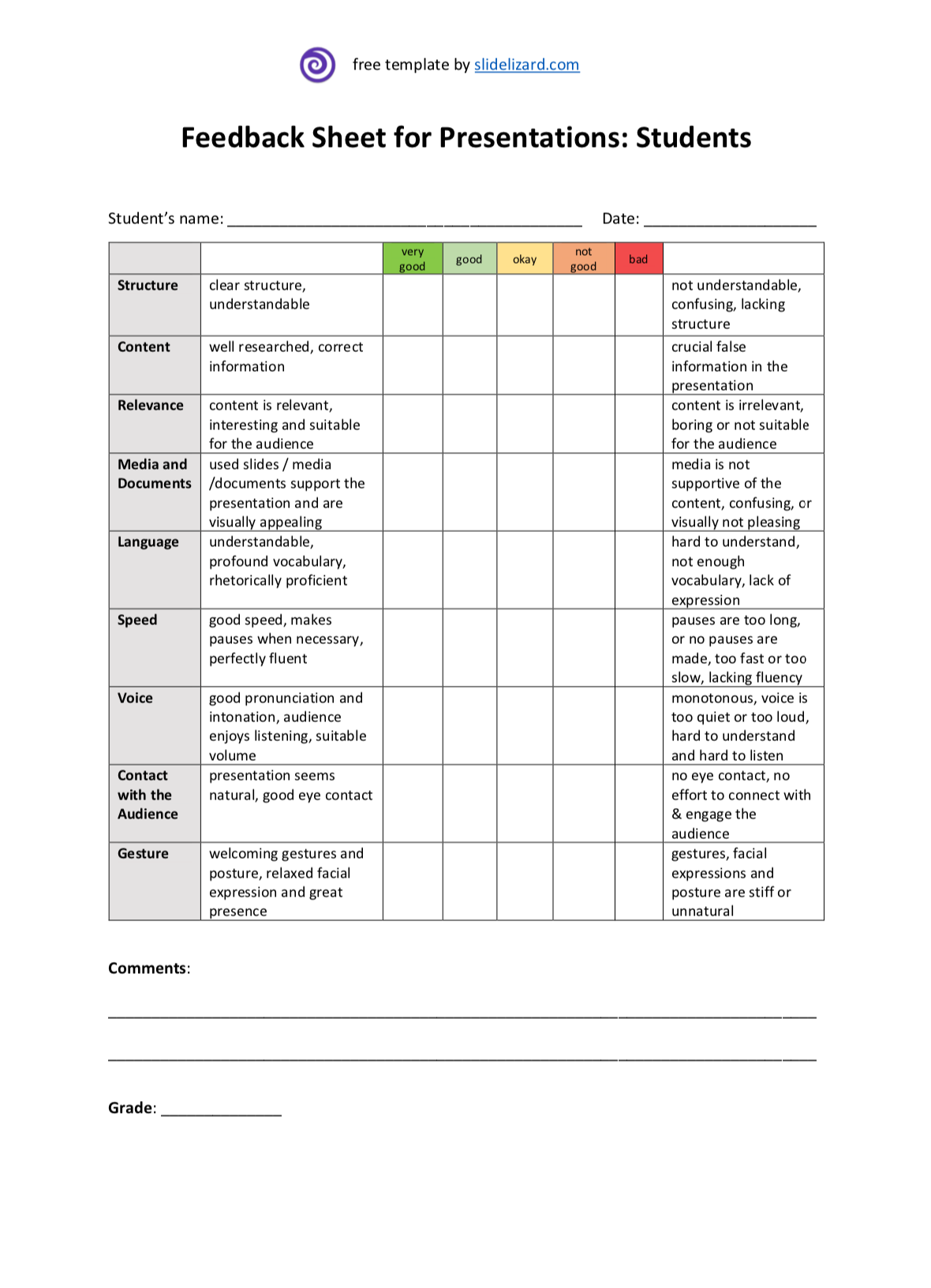 Template as PDF, Word & Excel - perfect for school or university,...


Download now
FAQ
Where can I find a free feedback form for presentations?
There are many templates available online. We designed two exclusive, free-to-download feedback sheets, which you can get in our blog article
What's the best way to get feedback for presentations?