PowerPoint allows you to easily create handouts to share with the audience after the presentation. You can also export your presentation with slides and notes to Word for further editing and formatting. You can find out how this all works and how you can print out the handouts at the end in this blog post.
Table of contents
Format & print handouts without notes
Format
To do this, go to "Handout Master" under "View". There you can format your handouts in the same way for all pages with only a little work. Be it the orientation of the handouts, how many slides per page, header and footer as well as the color and font. Under "Close master view" you can close it again and return to the normal view with the slides.



Print
If you want to print the handouts, you have to go to "Print" under "File". When doing so, you have to choose a format under "Full page slides" in the group "Handouts", how many slides you want to have per page, and you can print your handouts.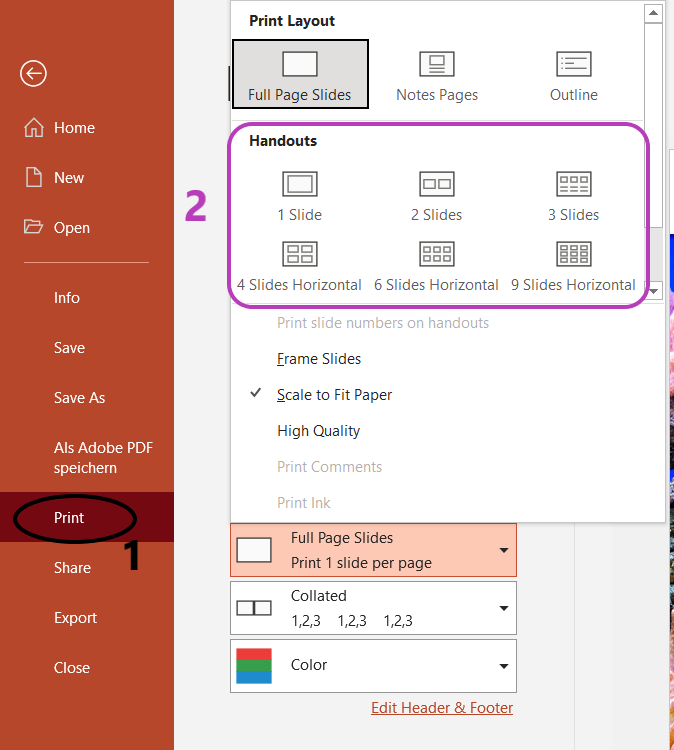 Format & print handouts with notes
Format
However, if you want to provide your audience with even more information, you can easily write and format your notes while creating the presentation. You will find this function under "View" in "Notes Page".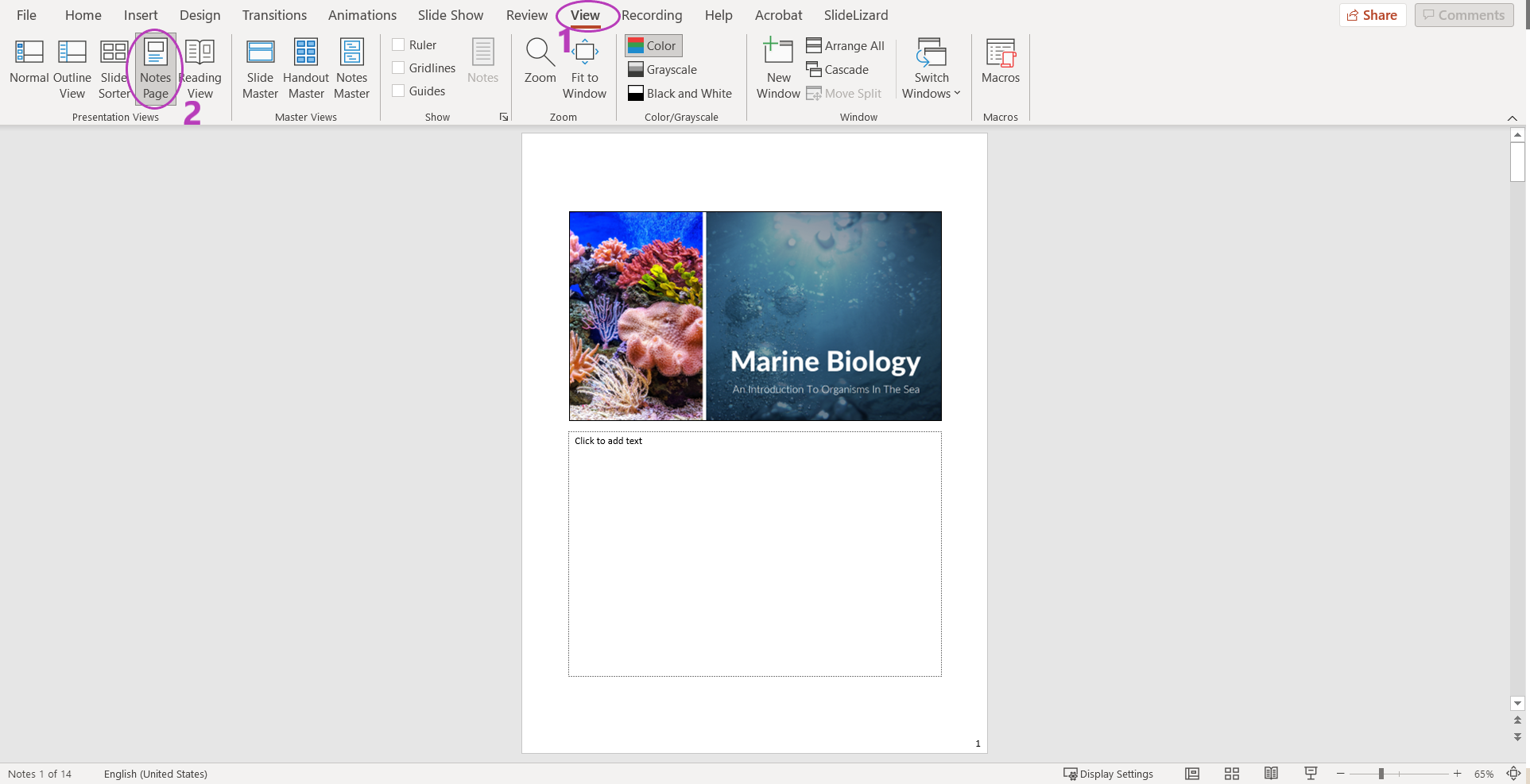 Print
If you want to make them available to the audience, you can easily print them out. All you have to do is select "Notes page" instead of "Full page slide" in the print settings.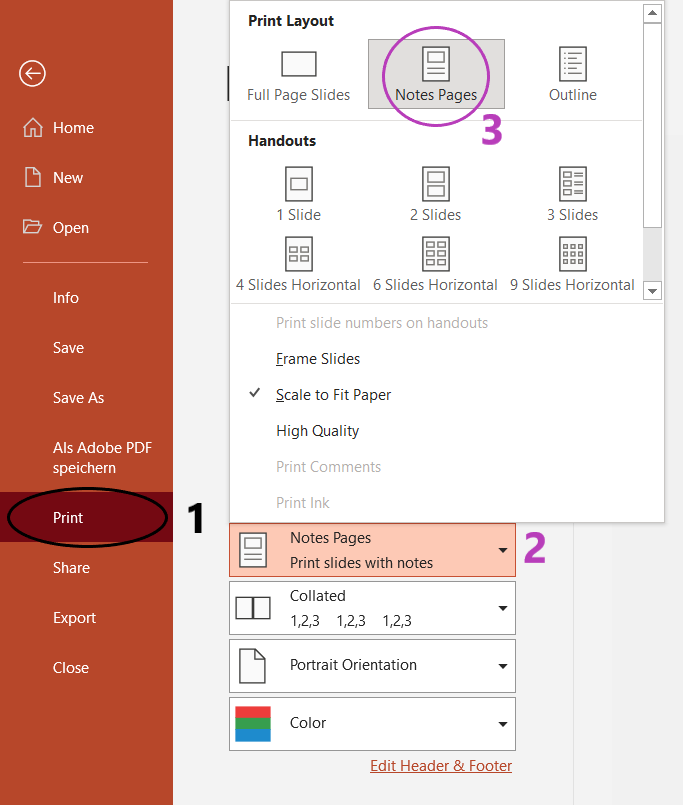 Exporting and editing handouts in Word
If you would prefer to edit your handouts in Word, you must go to "File", select "Export" and then "Create Handouts". A dialogue box will appear where you can select the desired page layout, then click on "Ok". A new Word file opens automatically, which you can edit and format as you like.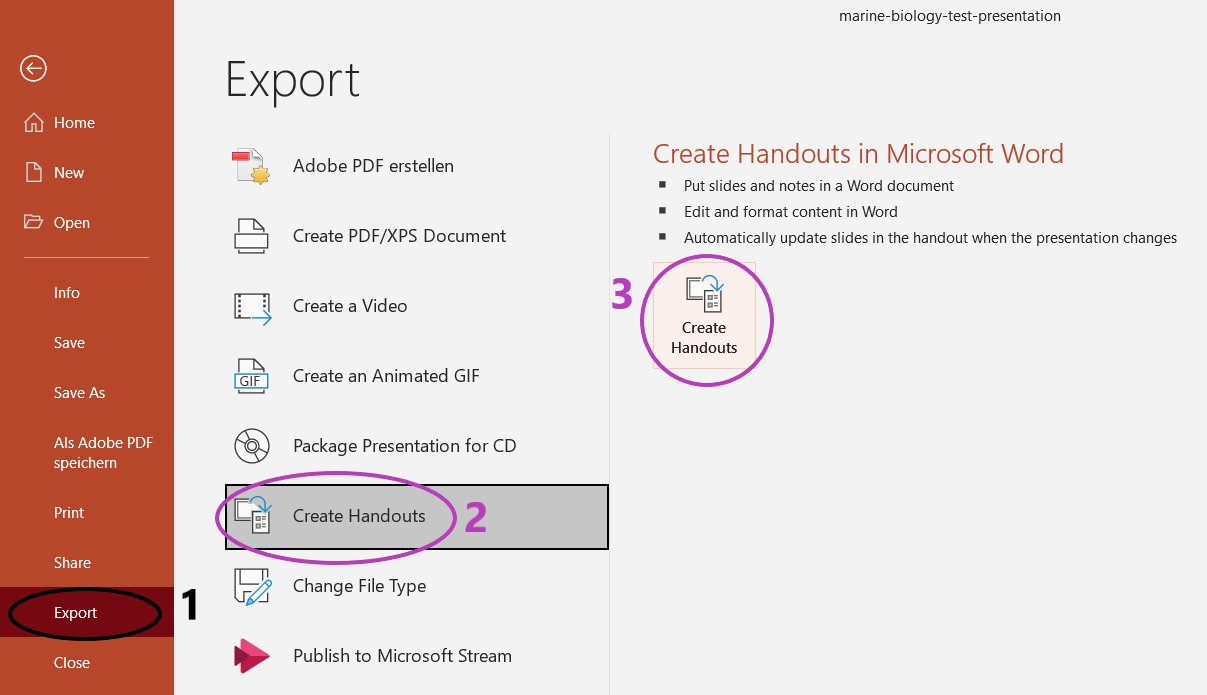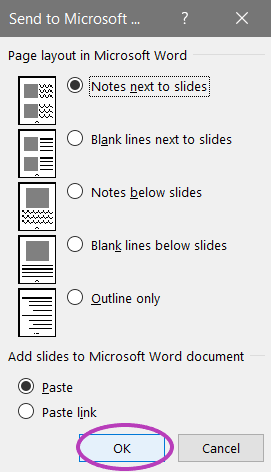 When exporting a PowerPoint presentation to Word, a lot of memory is used. Therefore, this process can also take for a while. If you get the error message "PowerPoint could not write to Microsoft Word", try restarting your computer.

Share slides digitally with the audience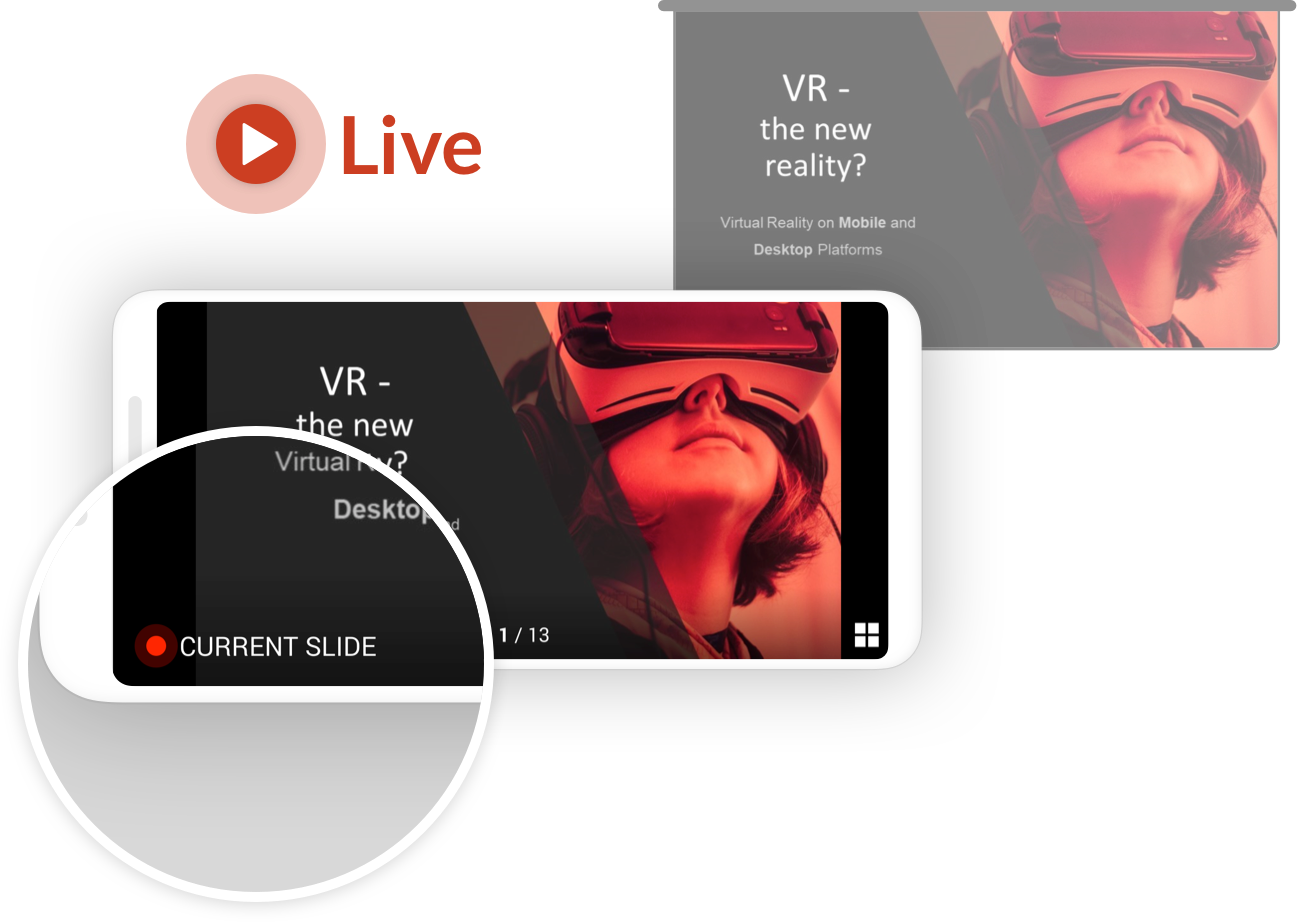 Printing handouts for every attendee is cumbersome and also not quite environmental friendly. A much better solution is using SlideLizard (a cool software for live audience interaction in PowerPoint) for your presentations. Attendees can join your talk with their smartphone (or Laptop) and see your slide live during the presentation. They can also browse previous slides and as well download the slides directly as a PDF (if you allow it).

In addition, participants can take private notes on their own smartphones directly within SlideLizard. These notes remain linked to the slides and at the end of the presentation all participants receive their own notes via email. Moreover, attendees can mark the most important slides with a star to find them more easily later. Live polls & quizzes are also possible with SlideLizard. You can try SlideLizard for free today!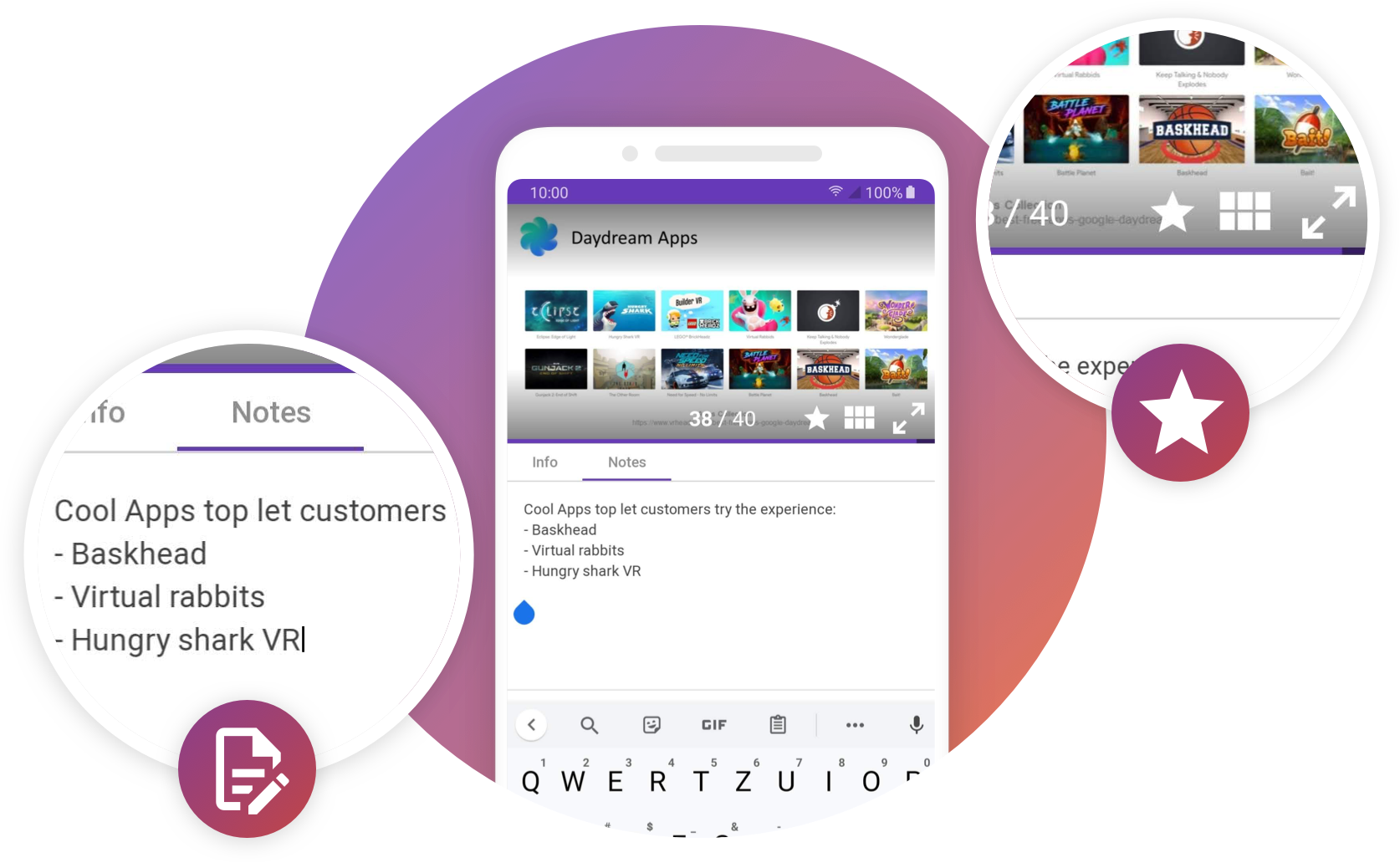 FAQ
How do I create handouts in PowerPoint?
To create handouts in PowerPoint go to "Handout Master" in the "View" tab. You can format your handouts for all pages there.
How do I print handouts from PowerPoint?
To print your handouts you have to go to "Print" in the "File" tab. You can then choose how many slides you want per page under "Full page slides" in the "Handouts" group.