Whatever the reason why you're looking for an alternative for PowerPoint may be, we're here to show you 7 great programs to use instead. Here's a quick overview - you'll find more detailed information below:
Overview video
1. Slides
Slides is amazing! The software is extremely intuitive to use and while there are design pre-sets, it still allows artistic freedom and adjustments. You will be left with wonderful slide decks. There is a free version, and the basic plan for 5$ a month is totally affordable as well. Presenting offline is only possible in the Lite and Pro version.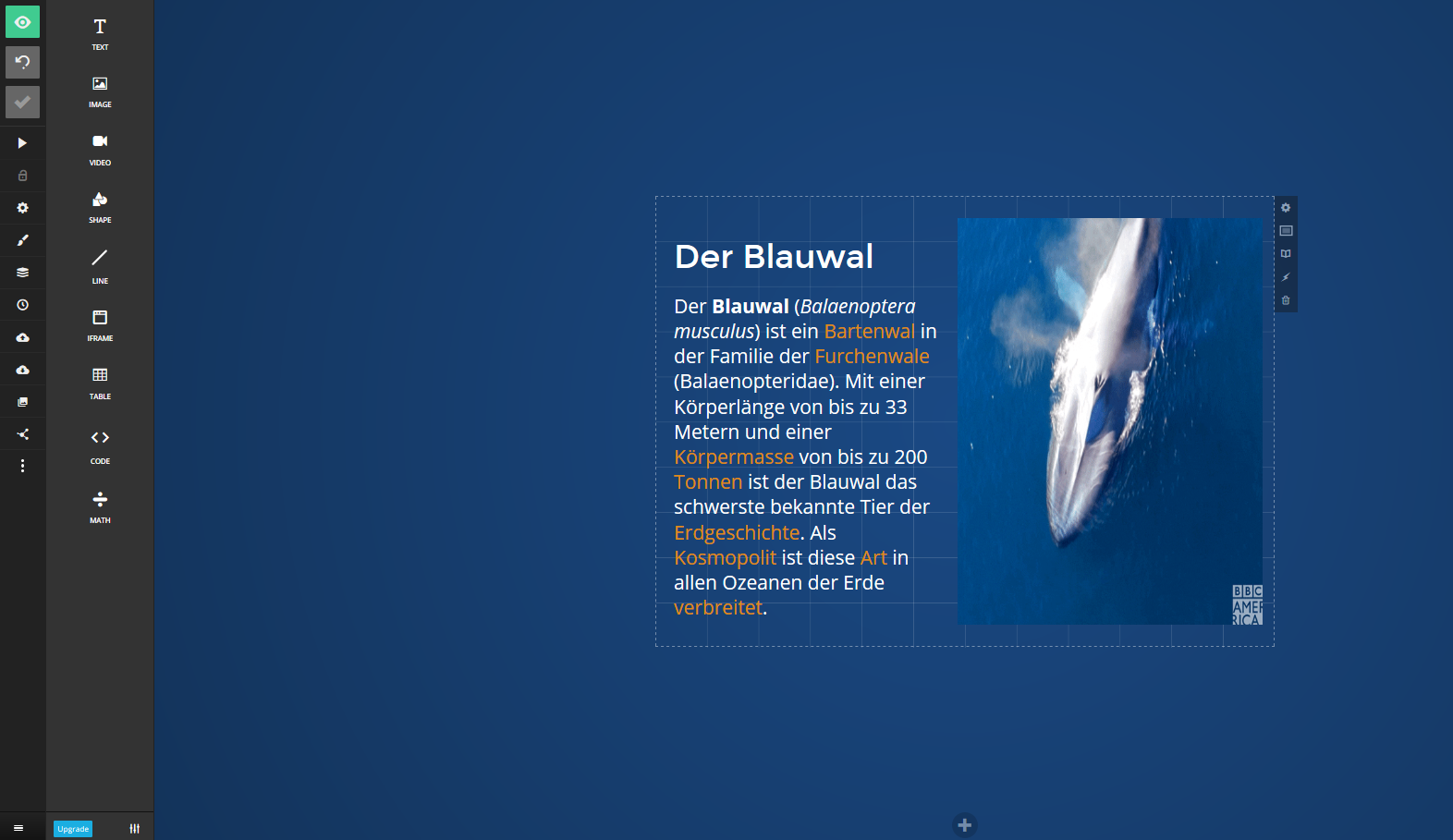 Who is it for?
Slides is for everyone who wants professional looking slides while not giving up creating your own creative slide deck. Its easy interface makes it perfect for anyone who doesn't want to spend a lot of time learning to use a new program.
Pro's
intuitive and easy to use
integration of code or math formulas
directly insert images from Unsplash or GIFs from giphy
design your own themes
Con's
slide decks in the free version are publicly viewable and may include ads
Pricing and Features
Free, Lite and Pro Version for single users, Team Version; Click here to see details
| Plan | Features | Cost |
| --- | --- | --- |
| Free | create slides decks, unlock all basic functions, 250 GB storage | - |
| Lite | no ads on decks, 1 GB storage, 1 collaborator per deck, present offline, export to PDF | $5 per month |
| Pro | no ads on decks, 3 collaborators per deck, present offline, share privately, Sync to Dropbox, Custom CSS, Google Analytics | $10 per month |
| Team | no ads on decks, unlimited storage, unlimited deck collaborators, Single sign-on with Google, Custom branding, Theme editor, Shared media library, Shared slide templates, clone each other's decks, priority support, Google Analytics | $20 per month |
2. beautiful.ai
beautiful.ai (as suggested in the name) is a presentation software that uses artificial intelligence to get the best possible slides. And the results are - well - beautiful. After a short tutorial and some time to get used to the program, playing around with slides, elements and texts and seeing how the AI assistant transforms them is actually a lot of fun! In the Pro version, there's a desktop player included. The free version is for online use only.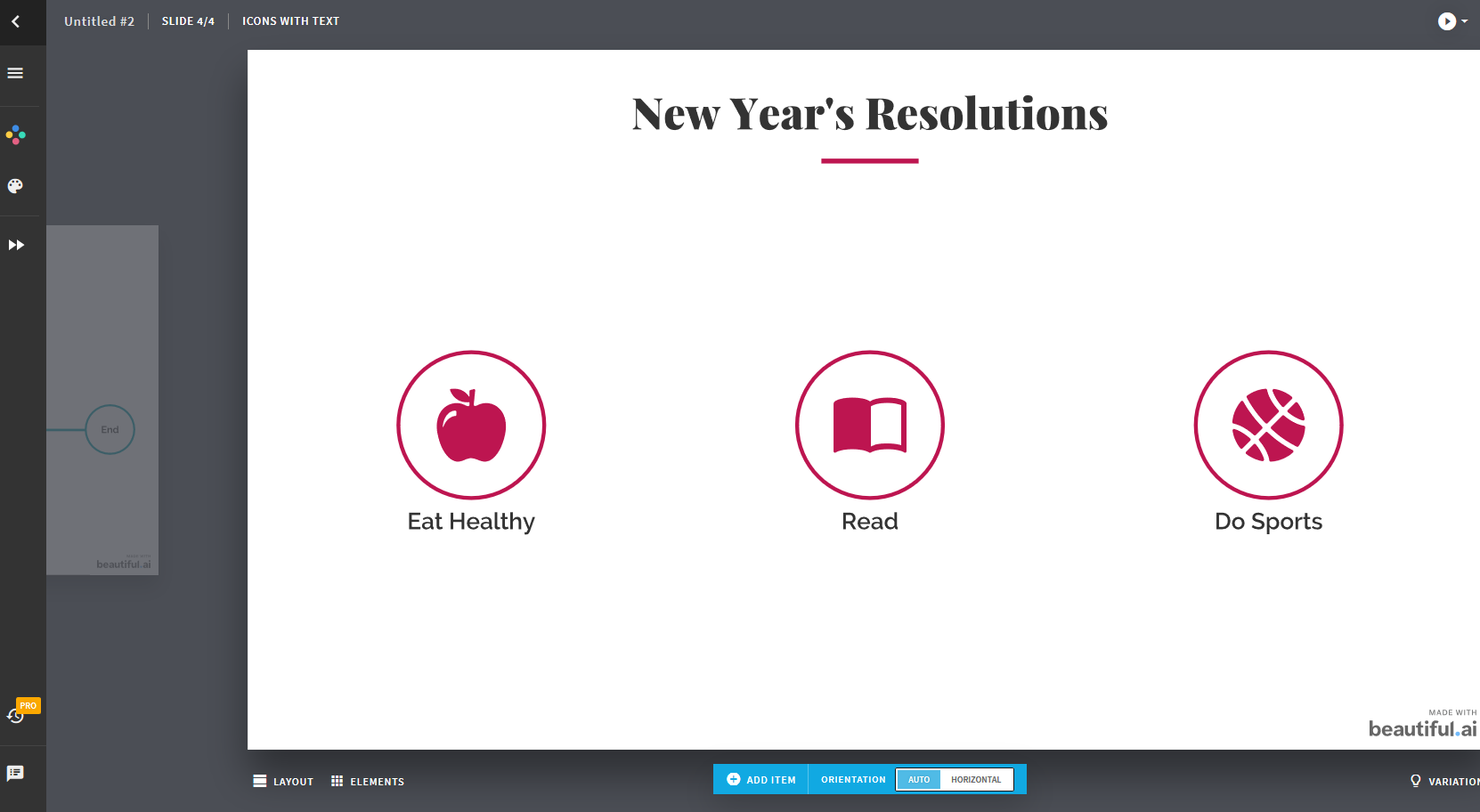 Who is it for?
beautiful.ai might not be the easiest tool to use on this list, but it is definitely one of the most interesting ones! We recommend it to anyone who wants to try out something new and to people who are thrilled about AI and tech innovations.
Pro's
really fun to use and play around with
design is always amazing due to AI
beautiful templates
lots of functions and slide pre-sets even in the free version
Con's
Limit of 60 slides in the free version
Logo branding in the free version
takes a little time to get used to
Pricing and Features
There is a basic plan and a Pro plan. Click here to get more information.
| Plan | Features | Cost |
| --- | --- | --- |
| Basic | 60+ Smart Slides ready to go, customizable Themes, free Image Library, Icon Library, collaboration between Multiple Users, export to PDF/PowerPoint | - |
| Pro | unlimited slides, editable PowerPoint Export, remove Beautiful.ai branding, Presentation Analytics, custom fonts, improved organization, secured sharing, desktop player, revision history | $12 per month |
3. SlideLizard LIVE
SlideLizard is a PowerPoint Add-on that extends its features and makes it so much better. You'll get everything you've ever missed in PowerPoint in just one software – poll creation, a live Q&A feature, slide sharing, audience feedback and presentation analytics. You won't need a PowerPoint alternative anymore – because PowerPoint will have everything you need.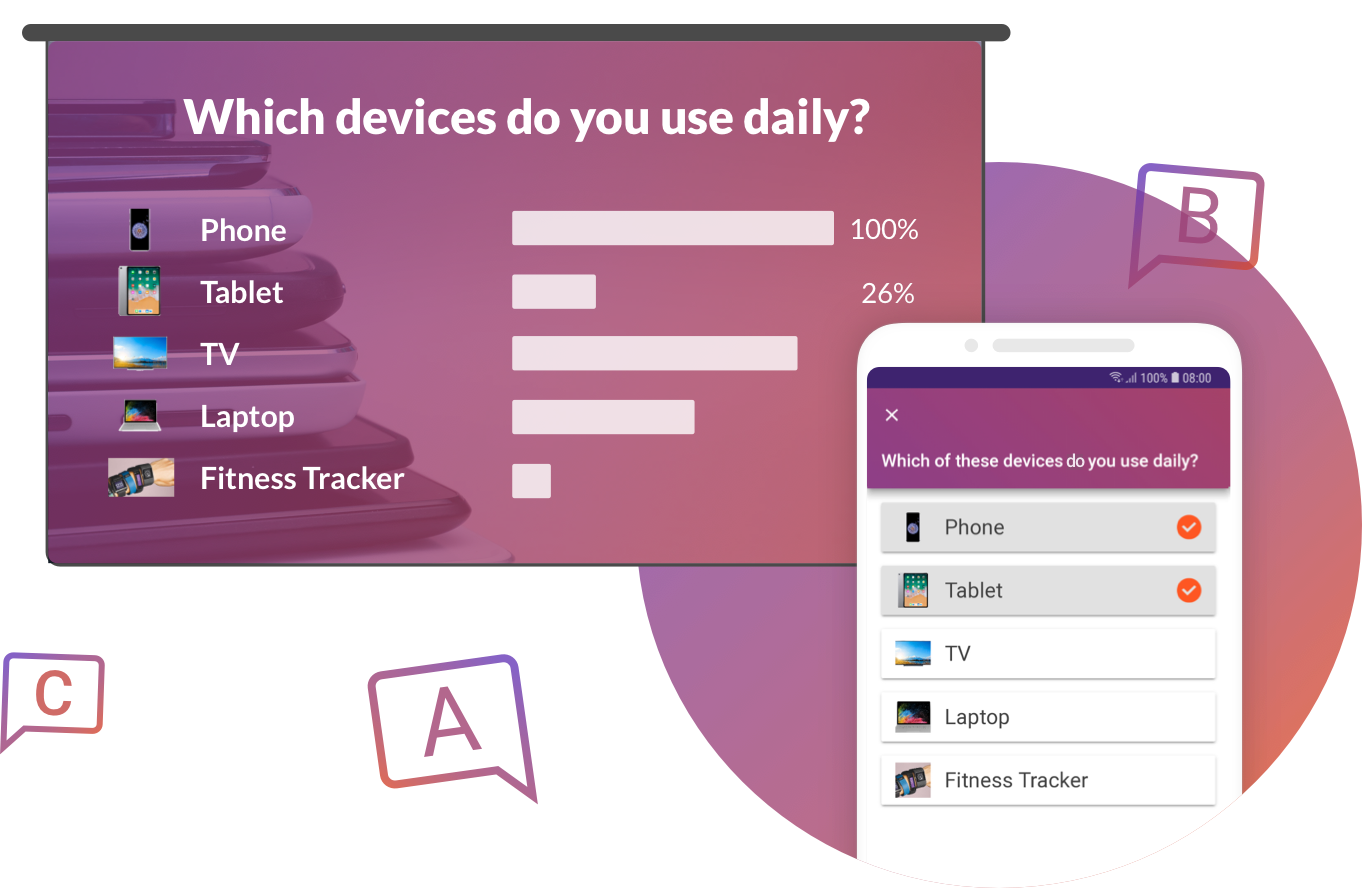 Who is it for?
Everyone who wants to engage their audience and improve their presentation skills – especially people who do presentations often.
Pro's
get anonymous Feedback easily
create polls
analyse your held presentations
answer questions as they arrive
seamless integration into PowerPoint
Con's
Pricing and Features
Free and PRO versions for single users, Enterprise and single event plan on request. Click here to see details.
| Plan | Features | Cost |
| --- | --- | --- |
| Free | Unlimited Attendees, unlimited Slides, Live Slides, Audience Q&A, Audience Polls, Audience Feedback, shared resource | 0€ |
| Pro | View archived data, no SlideLizard branding, password protection, data export | 17€ per month |
4. Zoho Show
Zoho Show is a free tool for creating presentations. It resembles PowerPoint in use. Even though it's completely free, it contains lots of features and has everything you need to hold a basic presentation. Again, it is pretty easy to use. You do need an internet connection to create and present you presentation via Zoho Show, but it can be downloaded and opened in PowerPoint or as a PDF as well.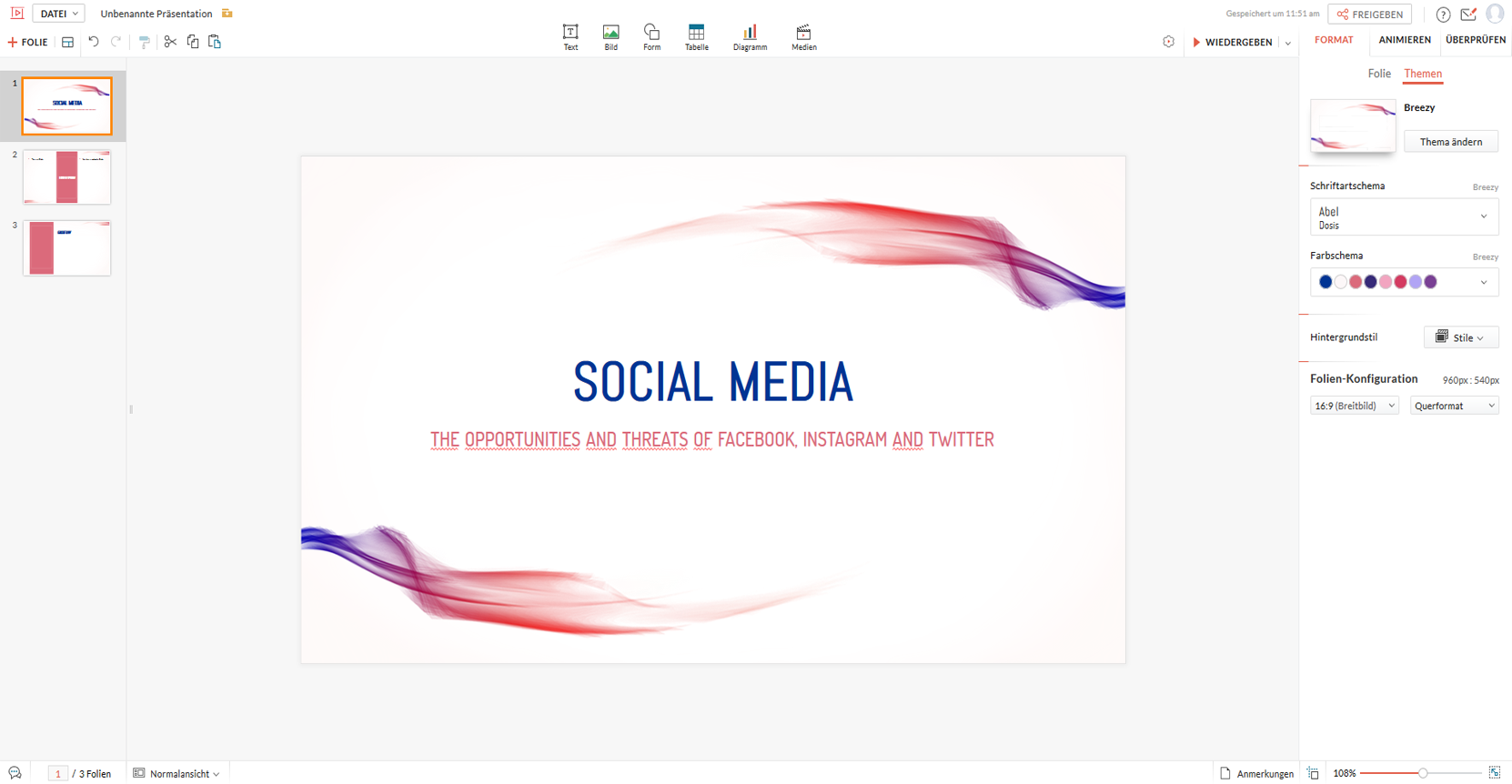 Who is it for?
Since it is completely free, Zoho Show is especially perfect for students or anyone who doesn't want to spend money on a new presentation software. For free software, Zoho Show does a very good job.
Pro's
completely free
similar to PowerPoint in function
animation of objects and transitions
easy to use
collaborate with colleagues
Con's
not that many templates available
creating presentations may take a while
Pricing and Features
Zoho Show can be used for free with all features.
5. Canva
Canva offers lots of design templates and makes it possible to create visually stunning presentations within a short amount of time. It is not just a platform for creating presentations, but also for designing graphics for other purposes (eg. Social Media, Flyers,…) , so if you find also need to create content of that kind, Canva might be the perfect tool for you. You need an internet connection to create the slides, which you can download afterwards.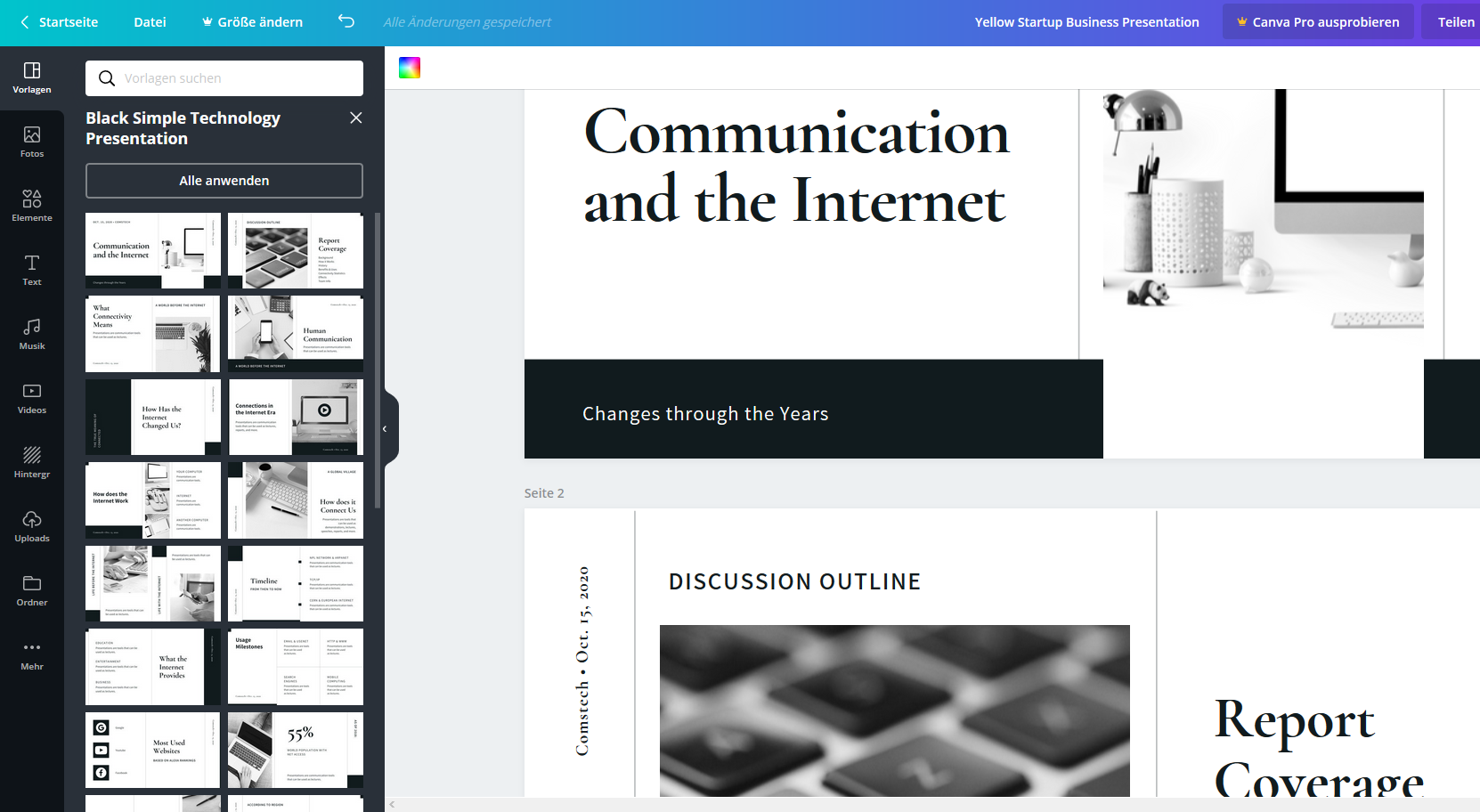 Who is it for?
Canva is great for students, as the basic plan is free and completely sufficient for non-business purposes. It is great software for anyone who is looking for an easy and quick way to create professional-looking presentations and other types of content.
Pro's
huge selection of high-quality design templates
intuitive and easy to use
choose from a variety of free and low-priced images, backgrounds and music
slides can be downloaded and opened with PowerPoint
Con's
limited storage space in basic plan
no animation of objects (except for predefined illustrations)
Pricing and Features
There is a free basic plan, a Pro plan and an Enterprise plan for companies. Click here to see details.
| Plan | Features | Cost |
| --- | --- | --- |
| Basic | upload own images, 1GB storage (for photos and assets), over 8000 templates | - |
| Pro | elaborate brand/corporate design, 100GB storage, custom fonts and color designs, Organisation in folders, access to 4 million photos, icons, illustrations, save templates | $12.95 per month |
| Enterprise | unlimited storage, control colors/fonts/assets and logos and ensure brand consistency, comment on designs | $30 per month |
6. Crello
Crello is similar to Canva. It is not only for creating presentations, but also Social Media posts, banners, prints and more. As for presentations, you can choose from a huge variety of templates. You basically only have to exchange the pictures and add text to finish your presentation. Internet connection is required.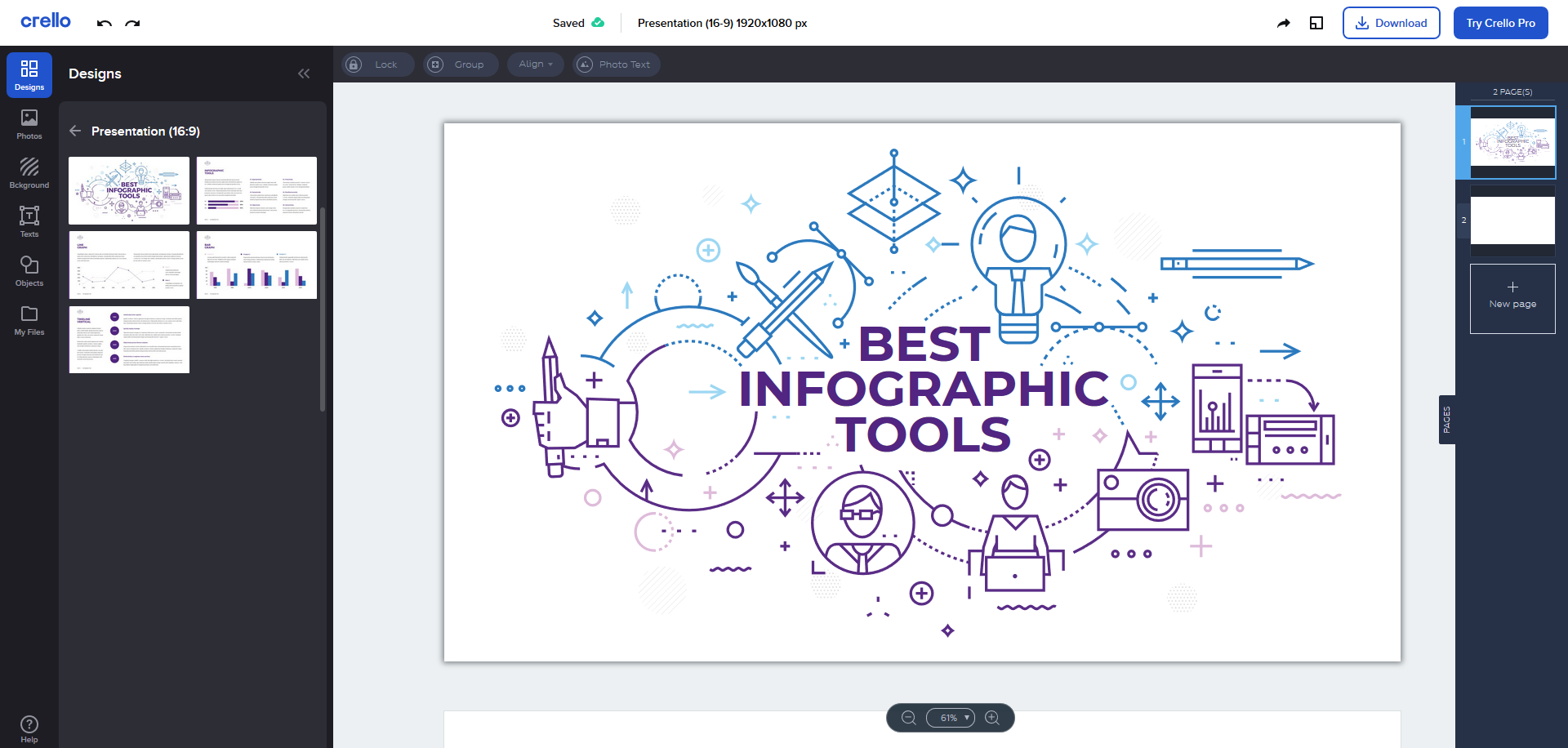 Who is it for?
Crello is the perfect tool for all designers, whether you're a beginner or already advanced. The free version offers a good deal of features, so it is definitely an option for people who do not want to spend money on software.
Pro's
lots of beautiful templates
many features in the free version
easy to use
Con's
no animations
no transitions
Pricing and Features
Crello offers a free basic plan and a pro plan. Click here to see details.
| Plan | Features | Cost |
| --- | --- | --- |
| Basic | 30,000+ templates, access to stock images, upload your own fonts and images | - |
| Pro | 30,000+ templates, access to stock images, upload your own fonts and images, 500,000+ premium images, 32,000+ videos and animations, create teams to collaborate on designs | $8 per month |
7. Haiku Deck
Haiku Deck is a well-known alternative for PowerPoint. People like it for its user-friendly interface and for how easily you can create amazing, professional presentations. An internet connection is required while creating, Pro users can download their slides for offline viewing.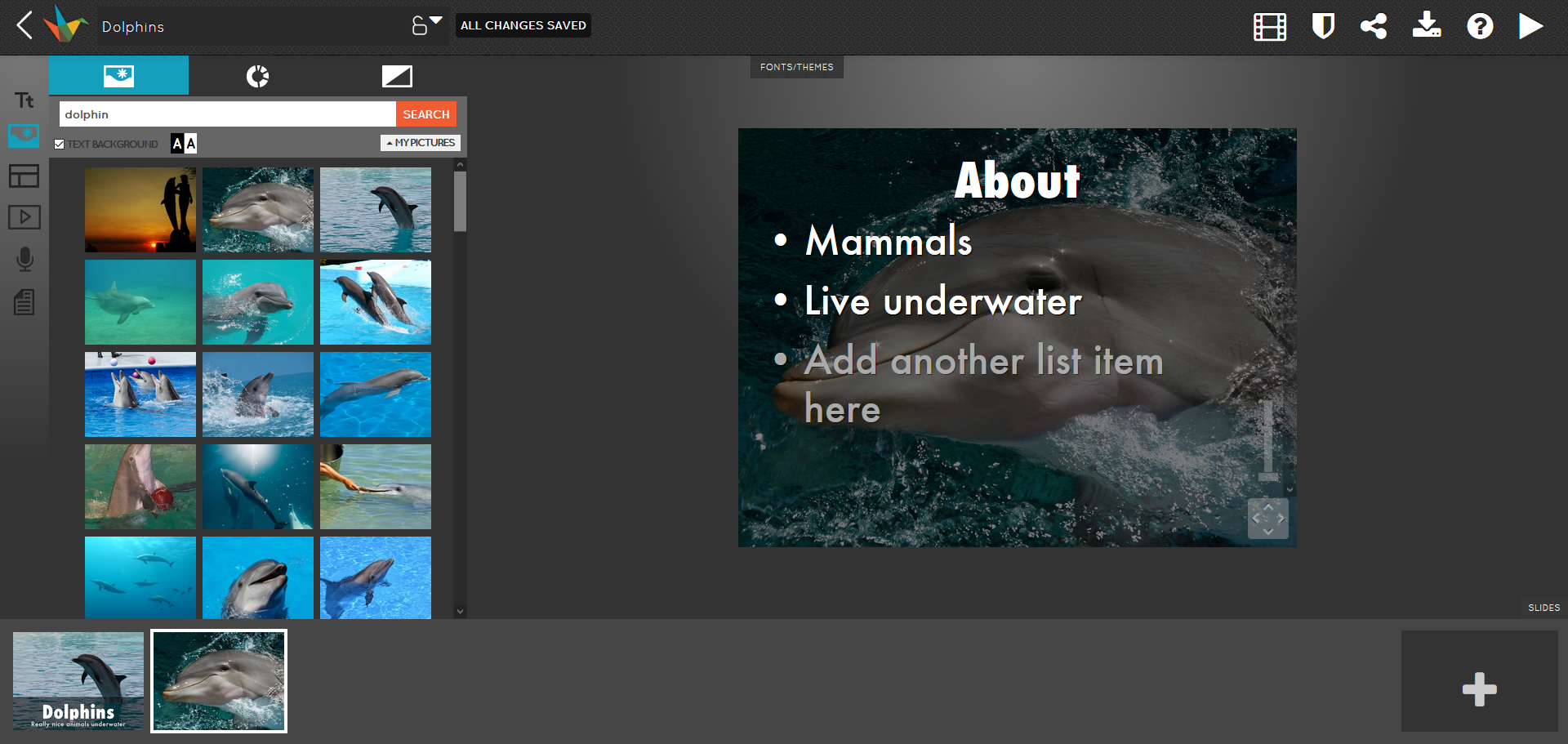 Who is it for?
Due to the fact that you basically have to pay in order to use Haiku Deck, it might not be the best option for everyone. Presenters who don't mind spending some dollars per month for good presentation software are likely to be satisfied.
Pro's
professional and widely used software for creating presentations
user-friendly with lots of options for editing
Con's
no real free version (you can only have one deck in the free one and the features are very limited)
no Pro trial without entering payment information
Pricing and Features
Haiku Deck offers a Pro and a Premium plan. Students, teachers and non-profit organizations only pay half the price. Click here for details.
| Plan | Features | Cost |
| --- | --- | --- |
| Pro | Unlimited deck creation, Privacy control, Add audio narration to presentations and save as video, YouTube search and embed, Custom branding, PowerPoint image search add-in, Automatically build presentations with Zuru | $10 per month |
| Premium | all Pro features, In-depth analytics and lead tracking, Presentation view notifications, Live web playback, Priority technical support | $30 per month |
...or stick with PowerPoint instead?
While playing around with tools and alternatives is without a doubt fun, we are still huge fans of PowerPoint. It is the all-time allrounder for presentations, works offline and has so much to offer! As with most of the presented software, you can download the created slides and open them in PowerPoint as well. For anything you might miss in PowerPoint, there's probably already a great Plugin to help you. Click here to see the 5 best PowerPoint Plugins in 2020.

FAQ
What is the best PowerPoint alternative?
Unfortunately there is not THE best alternative. It depends very much on your application, which alternative is best suited for you. Our blog entry gives a good overview which software fits for whom.
Are there free PowerPoint alternatives?
Yes, there are free alternatives. These are free, for example: Canva, beautiful.ai or Crello. Our blog gives a good overview of the respective prices and features.